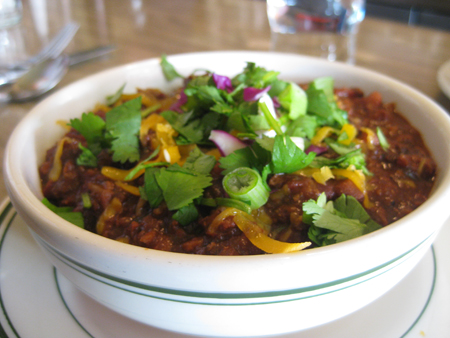 A recommendation from the proprietor at the Cape Arch Inn and Retreat near Cannon Beach, Oregon, led us to the Columbian Cafe in Astoria. I'd driven by this place dozens of times and never noticed it. I felt silly when I asked how long they've been around, like it was new or something. Nah. 30-something years!
I had the vegetarian chili (top) and Jon had the chef's choice (above) which was a burrito-like eggy breakfast piled high with veggies.
Oh yum!
If you find yourself passing through Astoria, do NOT miss this vegan-friendly hole-in-the-wall!
1114 Marine Drive
Astoria, OR
503-325-2233
Please join WanderFood Wednesday by adding a link to your food-related post. If you're a newbie, see more about WanderFood Wednesday here.
Life's Short, Eat Well!
Like to eat? Subscribe to the WanderFood RSS feed or enter your email address at right to keep up on ethnic eats around the world.