Last week, the WanderBloggers had a little reunion in Seattle as we had 2 gals visiting from Oahu and one from Beijing. This was the first time so many of us had been in the same room together and it was so much fun listening to all the talk of travel and living abroad.
We met at La Côte Crêperie in the Madison Valley neighborhood of Seattle. It happens to be under new ownership and the new owner is Catchin' Up with Kristen's French boyfriend. I had heard about Arnaud's fabulous cooking through Kristen but didn't know what to expect from this new restaurant.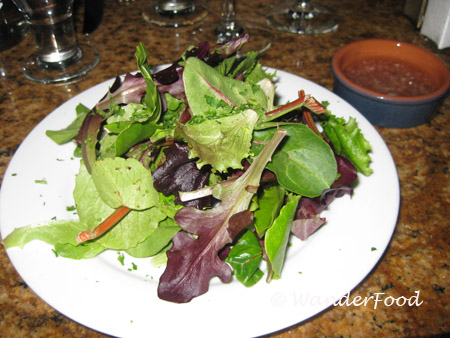 This tiny little cafe across from the popular Cafe Flora should not be missed by any Seattleite. The menu is long, with a variety of savory and sweet crepes as well as salads and soups. Specials get rotated regularly and the wines are affordable. Tuesday through Saturday, the menu features a $15 special – a savory crepe, soup or salad, and a glass of wine. $15! We all suggested that Arnaud raise his prices – I actually felt guilty ordering this at such a low price – but he's eager to get people into the restaurant to help spread the word.
All savories are served in buckwheat crepes like my meal (top photo) which consisted of spinach, cheese and mushroom. I also had a salad and then couldn't resist indulging in dessert. Debby of Tea, Sugar, a Dream, and I split a super yummy banana, chocolate and peanut butter crepe.
Banana, chocolate and peanut butter crepe. Oooh La La!
La Côte Crêperie
2811 East Madison
Seattle, WA 98122
206-323-9800
Go! Take advantage of the $15 screaming deal while it lasts!
And of course, here we all are…
Please join WanderFood Wednesday by adding a link to your food-related post. If you're a newbie, see more about WanderFood Wednesday here.
Life's Short, Eat Well!
Like to eat? Subscribe to the WanderFood RSS feed or enter your email address at right to keep up on ethnic eats around the world.
[mrlinky owner=wanderfood postid=03Feb2010 meme=2888]