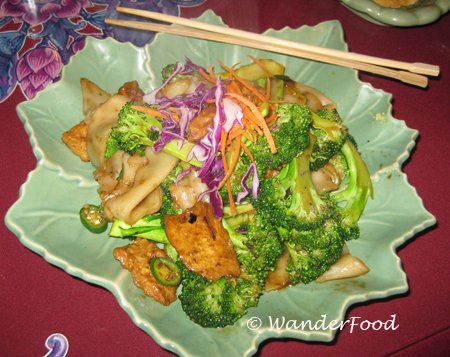 Seattle is filled with a large array of ethnic restaurants. They aren't all spectacular but you definitely can get most anything you want here.
I do love Thai food and recently went to Lotus Thai in the Wallingford neighborhood. The restaurant's been around for more than 20 years – a feat considering the number of small restaurants that tend to open and close rather quickly throughout the city.
It's probably lasted because it's got a neighborhood feel (something we Seattleites are fiercely proud of) and is reasonable in both food quality and price.
Above is the Phad See Ew with tofu. This is one of my favorite dishes to order at any Thai restaurant. It includes wide noodles in a sauce and then topped with veggies and, in this case, tofu.
Lotus Thai
2101 N 45th St.
Seattle, WA
(206) 632-2300
Please join WanderFood Wednesday by adding a link to your food-related post. If you're a newbie, see more about WanderFood Wednesday here.
Life's Short, Eat Well!
Like to eat? Subscribe to the WanderFood RSS feed or enter your email address at right to keep up on ethnic eats around the world.
[mrlinky owner=wanderfood postid=05Jan2010 meme=2888]