There are 2 things I can't get enough of – watermelon and popcorn. Well, I have been known to fill up on popcorn but never watermelon. And I don't generally eat them together.
Bangkok has no shortage of watermelon juice and I never miss a chance to enjoy a glass with every meal.
Popcorn? Well, not so popular, but I did discover this vendor cart down a side alley near my hotel in the Sukhumvit neighborhood.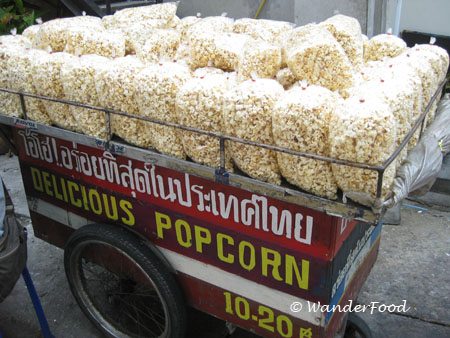 If you're a newbie, see more about WanderFood Wednesday here.
Join WanderFood Wednesday by adding your link below.
[mrlinky owner=wanderfood postid=19Aug2009 meme=2888]
Life's Short, Eat Well!
Like to eat? Subscribe to the WanderFood RSS feed or enter your email address at right to keep up on ethnic eats around the world.