While in Park City recently, we wanted to experience some of the great restaurants along PC's Main Street. There were SO many to choose from. I'll post some photos soon of other restaurants but the one that stood out most for us was Shabu.
I had read (on my new iPhone) some reviews and they weren't all exactly glowing. Some people complained of poor service while others talked about the the uneven quality of food. Despite these reviews, I had a good tip from a local friend that we should go there.
We were pleasantly surprised to have nothing but excellent service and even better food. Over a couple of hours time (and we were never rushed by our server) we shared several appetizers and a bowl of miso soup. Everything was perfect; beautifully presented, tender and tasty.
The top image is the tuna and tomato tower in which the tuna (hidden under the tomatoes and beets) was perfectly seared and butter-like.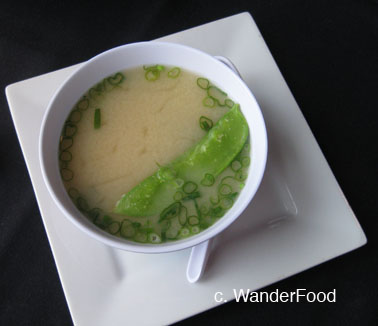 This is the delicately spiced miso soup with scallions and edamame.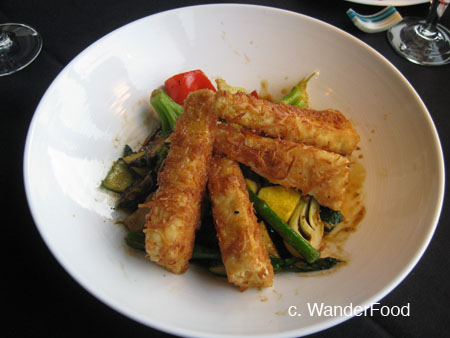 Fried tofu lightly breaded with coconut flakes. Excellent!
Shabu is currently located on the 2nd floor of a mall – though rumor has it that they might be moving to a more convenient location soon. In the meantime, don't let the fact that it's not in a more obvious spot stop you from going there. They have wonderful outdoor seating that overlooks the main street and plenty of indoor seating where you can enjoy live music (the evening we ate at Shabu, there was a talented guitar player).
Shabu
333 Main Street
Park City, UT 84060
435-645-SAKE
If you're a newbie, see more about WanderFood Wednesday here.
Join WanderFood Wednesday by adding your link below.
Life's Short, Eat Well!
Like to eat? Subscribe to the WanderFood RSS feed or enter your email address at right to keep up on ethnic eats around the world.