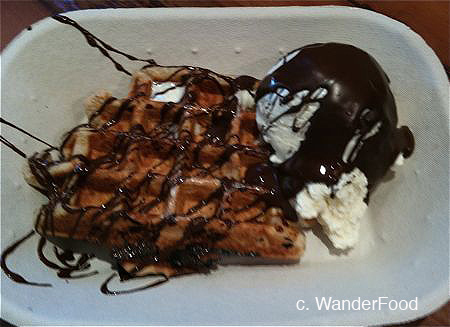 When I was in Salt Lake City last week and it was 100 DEGREES out, I couldn't really think of eating anything of substance. My mind kept coming back to ice cream.
I had been walking around downtown for a while, certain I'd find an ice cream or gelato shop but to no avail. Not knowing SLC very well at all, I tried something different. I took out my new trusty iPhone and gave it a shake using the UrbanSpoon application. I locked in on desserts and within seconds I discovered a spot I had to try.
Bruges Waffles and Frites specializes in only two things: waffles and frites (french fries). Owner Pierre VanDamme, direct from Brussels himself, runs a local wafflery at the farmer's market. It was just a few months ago that he opened up this little place that could be missed if you weren't looking for it. I bet, however, that once found, many have gotten addicted to this little shop.
Though a lot of sugar is never a good thing for me, I couldn't resist eating this with a few extras – vanilla bean ice cream and chocolate topping which freezes on top of the ice cream into a nice hard shell.
The waffles are only a few dollars each and then each topping is additional and includes your choice of ice cream, whipped cream, strawberries or chocolate (or any combo!).
I was pretty sugared-out after this "dinner" but it was well worth it! Now I can't wait to go back to try the frites…
Life's Short, Eat Well!
Like to eat? Subscribe to the WanderFood RSS feed or enter your email address at right to keep up on ethnic eats around the world.