Your choices for hiking and trekking boots is officially huge with new models every year. But before you make any choices be sure to check out Lowa. Today I'm reviewing Lowa Camino GTX Flex Boots.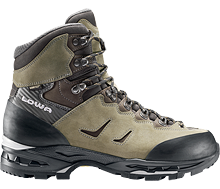 Multi-day trekking, as opposed to sitting in an office, will change the shape of your feet. As the day lengthens and the miles increase the instep of your foot (widest part of your foot) will generally flatten out. I already have wide feet and Lowa conveniently makes the Camino GTX in a wide width.
Lowa Camino Fit
My next consideration for a great fit is how it performs on the descent from a relatively steep hike. For instance, lets say you are doing an 10 mile day hike with a 1,000 ft elevation gain per mile for the first five miles. When you come down you have to descend the same 1000 ft per mile down for five miles. At some point your feet will become little fatigued and the last thing you want is having your toe nail jamming up against the end of the boot with each step down the mountain.
So getting boots that are wide enough to let your foot spread out and long enough so that your toes don't touch the ends is critical. Lowa solves this with their patented "flex lacing" system that reduces the pressure on your instep but lets you cinch the boot snug against your upper ankle keeping your heel set back and your toes jam free 🙂  It's important to point out that you need a boot with laces to pull this off. Other brands (which I like for other reasons) have "quick lace" systems that pull evenly across your instep and don't let you "dial in" the fit where you want it. Again – I love quick lace systems for many reasons but not for back-packing or trekking while carrying a loaded pack.
Lowa Flex Lacing
Lowa has an amazing video library including detailed instructions (https://www.youtube.com/watch?v=BgnRyUy3Tu8&feature=youtu.be) on how use their lacing system. I'm not aware of any other brand going this far to educate their customers – it's very well done.
Finally, the Camino boot is meant for reasonably heavy loads and the GTX label means it's water-proof. So if you are a hunter and plan to be out for a few days or are back-packing all your gear into a remote location (i.e.: 30 lb pack or more) then Lowa offers the stability you need. There are more than one kind of non-slip / high-grip soles out there and Lowa chose Vibram – perhaps the best of the bunch.
Protect your Feet
It seems silly but without a vehicle your means of locomotion in the wilderness comes down to – your feet. So don't skimp on a great fit and a quality made, water proof boot made for the activity you are doing. Whether its back-packing, trekking, hiking, rock-climbing, or trail running – find the right boot for the activity and start looking for it at Lowa.com
The Good
Made for longer haul, heavy load back-packing
Excellent lacing and adjustable fit system
Very high quality materials
Vibram soles
The Bad
Slightly tall for my taste
A wee bit heavier than I like for a 10 mile hike (I usually go fast and light)
Available from Amazon for $299.95
The More You Know
If your second toe is noticeably longer than your big toe (like mine) you may have what's called Morton's toe – sometimes referred to as Greek Foot (idealized in Greek sculpture). This effectively shortens the leg (through complex anatomy mechanics which I can't claim to know much about or repeat) and cause foot fatigue to set in faster than on other people. A simple treatment: "may involve placing a flexible pad under the first toe and metatarsal". Check out the wikipedia article here: http://en.wikipedia.org/wiki/Morton's_toe