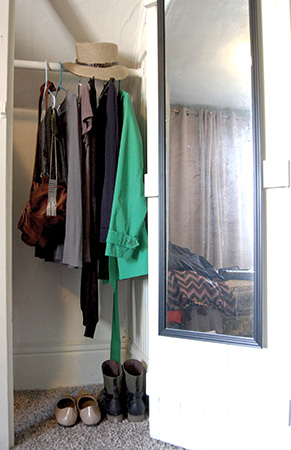 I've been thinking lately about my wardrobe—what I might pack to assemble great fall weekend travel outfits. I have minimalist aspirations, so gradually I am working to collect more and more pieces that are fairly neutral with little pops of color and will transition nicely from day to night. I thought I would share with you some of my current favorites from my own wardrobe. I'll start with the basics and move to the accessories.
Navy Midi Skirt
This skirt is a nice chiffon that I can wear with a T-shirt or a blouse, boots or flats. My best friend has us get them to wear in her wedding, but it has since become one of my grounding pieces.
Dressy Jogger Pants
I love tucking T-shirts into the high waist of these pants. They have a very chic silhouette and shiny diagonal panels over the knees for a bit of edge. These feel like sweats, but they look as good as slacks. Plus, waistbands tend to give me cramps after a while, so the nice, easy stretchy waist gives my body a break from the constriction.
Neutral T-Shirts
Pictured is a dusty eggplant (I suppose you could call it mauve)  scoop neck, short sleeve shirt. Also pictured is a long sleeve gray scoop neck. They are both quite possibly the softest shirts I have ever owned, and they are the perfect blend of everyday chic when tucked into these stylish bottoms.
Nude Flats
You can wear nude flats with anything. And these ones of mine have cute gold buckle that makes them dressier. It's nice when a small detail that doesn't detract from functionality and comfort can take an outfit to the next level. In fact, I might not even need to bring another pair of shoes. But in the fall, why not throw in the short rain boots.
Short Rain Boots
These boots are waterproof leather. When paired with the jogger paints they look a bit military, which I enjoy.
Green Raincoat
Who doesn't love a bright raincoat!? When your basics are, well, basic, you can afford to have one big pop of color like this. Oh yeah, it also protects you from the weather.
Tan Leather Purse
I love this little duffel shaped purse, which I acquired at a clothing swap. Apparently it belonged to my friend's grandmother, so you know it's tough. I find that second hand clothing lasts. You know it's durable because you still want it even though it's already well loved.
Feather Earrings
They are skinny peacock feathers so they match the jewel tone of the coat.
Tassel Necklace
This necklace adds a focal point to any neutral wardrobe. Got it on Modcloth. Sale! Highly recommended.
Woven Hat
I love my hat. This is the hat I feel like I can wear with any outfit. Remember what I told you last February. Hats make you seem stylish because for some reason half the people in the world are delusional and don't think they can pull it off.
Lulu Lemon Scarf
I have the Vinyasa Scarf from Lulu Lemon. Wear it ten ways. It's become a staple.
There you go. My current favorites. Feel free to steal my favs and remix them into your ideal fall weekend travel outfits.
Go in style,
Jacquelyn