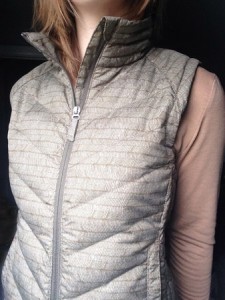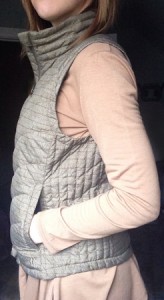 There is a new favorite in my closet these past couple of weeks. It's the trinity down vest from Royal Robbins. The trinity down vest is a stylish take on your traditional puffy vest. It features a unique herringbone print, and a flattering chevron quilt pattern. The overall result, is a vest that bridges the gaps between sporty, outdoorsy, and chic.
I felt that I could get away with wearing this vest over a sophisticated and flowy tunic with my new black boots from Matisse or with jeans and a t-shirt and a pair of hiking boots. That's exactly the kind of versatility you need from a travel garment.
Here's a comment about vests in general: get one; they are magic. I am one of those women who runs cold, and when I imagine a remedy, it involves tea, a huge, long-and-baggy-sleeved sweater, and bringing the comforter from my bed so I curl up in it on the couch. Back to vests: I am always amazed how warm I can be when I just insulate my core! Warm all day, arms unencumbered. It's a fantastic solution for whatever your day demands. Especially in a season like autumn—which is upon us, by the way! I'm feeling pretty done with summer these days—especially since Washington caught fire. This morning, I have the heater on!
Let's get into the details. I love the tailoring of this vest. the way the quilting changes on the sides helps you keep a feminine figure under the fluff. The inside of the pockets are super soft and they are a great size for your hands. Royal Robbins even calls them "hand warmer" pockets, so you know that's what they're designed for. They'll stay nice and warm in there. The lining of the vest is fun and quirky. A print that looks like fur! I love a garment that makes me feel like I've got a secret. I should show you a pic. Here you go: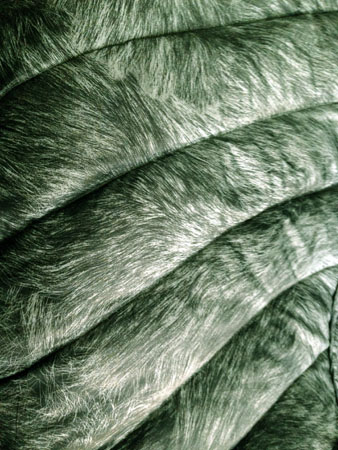 If you're in the market for a vest, this is a good one. I choose mangrove green, but you have options.
I almost forgot to tell you! I was too busy loving the style of this piece that I spaced on some key features: UPF 50+, water repellent, wrinkle resistant. Just some of the benefits of getting your clothes from a company like Royal Robbins where functionality and fashion meet.
Go in style,
Jacquelyn Barnes
I received this item for review purposes, but all opinions expressed are my own.