I've told you what to wear in Paris and London. I thought it was time to change continents and tell you what to wear in Mexico City.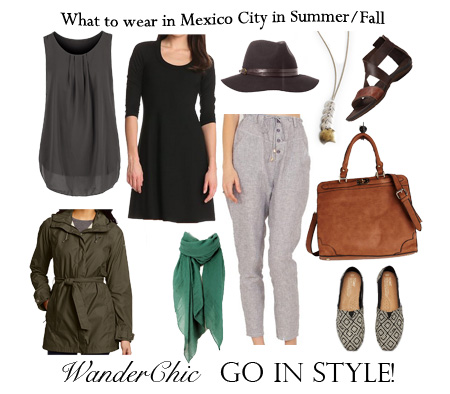 Ililily Blouse / Columbia Raincoat / Karen Kane A-Line Dress / Felt Fedora / Green Scarf / Linen Pants / What a Crescent Surprise Necklace / Cushe Glimmer Dress Sandal / Heading in the Bright Direction Bag / Toms Shoes
Mexico City may be in Mexico, but nobody dresses like they are going to the beach. It's a city—one at a fairly high elevation, too. Be ready for it too cool down a little at night.
If you're traveling in August or September, you've just missed the warm season, but you're not out in the cold just yet. That means you'll need to be prepared for everything. Look for highs in the seventies and lows in the forties. Bring a scarf, some close-toed shoes, a rain jacket.
You'll want to keep the jewelry simple. Bling will make you a target for theft.
A small messenger type bag might be good to carry around—less touristy than a backpack. This Modcloth bag is pretty cute—and it even has a travel-themed name.
You'll want shoes you can dress up for a night out dancing salsa or meringue, but nothing that will cause you to tumble on the cobblestones.
Now you know what to wear in Mexico City. Have fun!
Go in style,
Jacquelyn