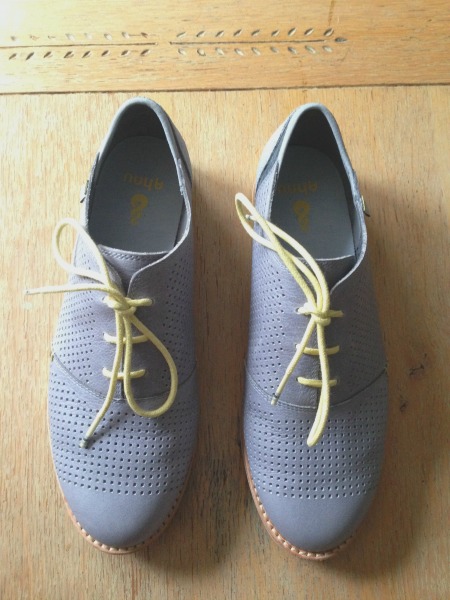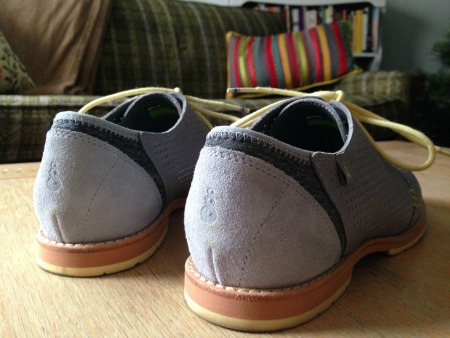 I'm feeling ready for Spring, and these Ahnu Emeryville Oxfords have a lot to do with it. I've paired them with a cuffed pair of Jolt jeans, a lace-trimmed ribbed tank by Tresics, a chic vest from KikaPaprika, and a stylish pair of Railto purple sunglasses from Tumi Eyewear. Also, they match my living room.
Here's why I think the Ahnu Emeryville Oxfords make a fantastic warm-weather travel shoe.
Comfort
While most of the shoe is full grain leather, the heel feels more like what I think is neoprene and suede, making it soft and flexible where it meets your heel—great for wearing without socks, which is how I like to wear this shoe. There was almost no break-in time, as a result. They were immediately comfortable. The only part that needed a tiny bit of break-in was where the leather had to bend when I stood on my forefoot, and it only took a couple hours of wearing them around for that area to soften up.
Then there is the foot bed, which is made of memory foam. It's a nice thin layer that feels soft to the touch but provides great support. It is glued in, but (trust me) you won't want to swap them out.
Breezy
The full grain leather on these shoes is perforated, so they are very breezy inside. There is a nice draft through the whole foot area that ought to keep your feet from getting sweaty.
No Odor
These shoes have an Aegis® anti-microbial treated footbed to minimize odor-causing bacteria. Because I'm a bit of a nerd, I did some research to learn about how it works. The active ingredient forms a "colorless, odorless, positively charged polymer that molecularly bonds to the treated surface." Unlike other antimicrobials, this one should last as long as the surface itself. Looks like Ahnu Emeryville Oxfords will be odorless for as long as they last. After a few weeks of wear, there is no olfactory evidence that my foot has ever existed there.
Color
When I first received these shoes, I noticed the color did not appear quite the same in person as it did in the catalog (although it looks pretty accurate on Ahnu's website now), so what looked light blue turned out to be a cool, almost purplish gray (they call it "Quarry"), and what looked creamy white turned out to be a light yellow. Even though they looked a bit different, I really enjoy they way they look. It seems like no matter what color you get, Ahnu color schemes are bound to turn heads.
Easy Style
It's nice to have a shoe that can shine all by itself—a statement shoe, per se. Ahnu Emeryville Oxfords are just that. Just by wearing these shoes you will add flair to the simplest pieces.
Lightweight
Ahnu Emeryville Oxfords have an EVA midsole that makes them both lightweight and provides extra cushioning and shock absorption. EVA stands for Ethylene-vinyl acetate, a polymer with properties that resist stress and impact. The midsole is the tan part of the shoe between the upper and the outsole—which is yellow like the laces. Other shoes that often include EVA midsoles are basketball, running, and skateboarding—so you know this shoe is built for all kinds of activity.
Ethical & Generous
I'll just have to point you to Ahnu's website for this one. They are very transparent about their specific guidelines followed at each step of the supply chain. "We believe that no business should ever be complicit in human rights abuses." Amen.
On top of that, Ahnu makes a point to give back to organizations that make a difference. Since they began in 2007, they have given over $250,000.
I highly recommend this shoe for anyone traveling to a warm place—just make sure you get them in a color that will work with most of the pieces in your travel wardrobe. I'm very impressed with Ahnu's design both visually and functionally. They strike a nearly perfect balance between style and performance. It's nice to find a company where the details matter. If you're interested, you can buy them here.
Go in style!
Jacquelyn
I received this product for review purposes, but all opinions are my own.