Because I haven't always been the most prepared traveler, I have taken special note of the items I am always glad I have along. Travel is full of once-in-a-lifetime moments, and being in the right outfit for the moment can make it that much sweeter.
The one coat that always feels right is my London Fog trench coat. It is my "everything" coat. It endured the rainy season in Peru and the high winds of Chicago in early spring—and it always felt like the perfect thing to wear.
Here is why I love to travel in a trenchcoat:
Sweet warmth!
My trench is the warmest coat I own, hands down—even warmer than my ski coat. I attribute this to coverage. When your coat covers your thighs, the difference in warmth is astounding.
They're adaptable.
Having a removable liner can make your coat useful most of the year, and you can wear it open for a different look.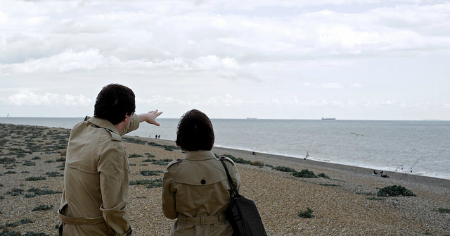 You can wear lots of layers underneath.
Layers are key to being able to adjust to sudden climate changes. And do any of you ever have that light jacket or sweater you want to wear, but you really need an outer layer to brave the elements? I face that problem all the time. I find that even more structured jackets fit nicely under the right trench.
They're classic.
Trench coats never go out of style. Hence this image from Australian Women's Weekly 1978.
They're Romantic.
Trench coats make me feel smart, pretty, and like I've got a captivating secret to keep, especially when paired with a bright, feminine cloche hat. Try it, you'll feel like Audrey Hepburn.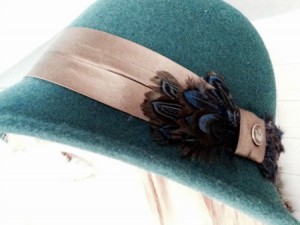 They have huge pockets.
Cameras, phone, chapstick, keys, your whole hand. All these things at the same time still fit great.
You can dress it up or down.
Like I said, it is an everything coat. There isn't an outfit worth wearing that I can't throw a trench coat over and look remarkably stylish.
I already picked one out for you.
I love my London Fog. I wouldn't switch brands—especially for the price. This one is a bit longer than mine and a bit lighter in color, but it has the same flannel lining, and I love the strings on the hood and the single row of buttons. Plus, more length equals more warmth and protection from the elements.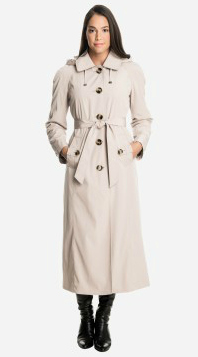 Photo Credits
Trenchcoated couple at the beach: Thomas Brasington via Flickr
1970s trenchcoats: Bess Georgette via Flickr
Open trenchcoat outfit: Maegan Tintari via Flickr
Sophia London Fog raincoat: London Fog