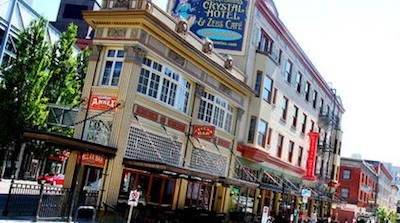 I've been charmed by the McMenamins empire since that first fateful pint of custom-crafted beer at the Kennedy School in Portland. Before my most recent trip, my buddy Liv told me about the recently opened McMenamins Crystal Hotel in Portland's Pearl District.
The Kennedy School houses its guests in converted classrooms (complete with chalkboards). At the Crystal Hotel, rooms and suites are named for musicians, a nod to the nearby Crystal Ballroom. We stayed in the Louie Louie (the Kingsmen room). Ours, like most of the rooms at the Crystal, was a queen with private-upon-entry bathrooms down the hall (there are a few King rooms with private bath available, too).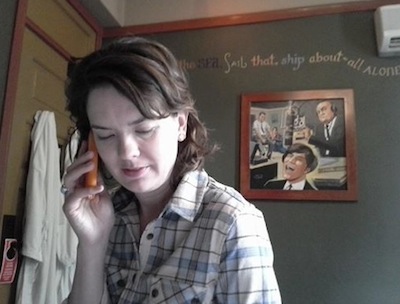 For brevity's sake, I offer three suggestions for getting the most out of your stay at the Crystal.
Robe On!
As if its location and charming decor weren't enough, the Crystal has a soaking pool in the basement. It's adult swim from 8pm till it closes at 1 am. You'll probably want one of McMenamins' signature beers in a plastic cup, which you can obtain from Al's Den just down the hall from the pool.
While you're right to assume that the bar staff are used to serving people wrapped in terry cloth, don't be surprised if you get a few looks from the bar's hip patrons. One woman might stare at you with her mouth open; when you say "we're going to the soaking pool," she looks at you as though you've just said that you're off to potty-train a unicorn. Order your drink, and tell her you're really in Portland for a swingers' convention.
By the second night's soak, you know where to stand at the bar, and you wear your robe with pride. A woman in heels only wishes she had on your hot pink Crocs. Smile when a guy passes you and says "Robe on!"
Make Multiple Trips to Powell's
If you just bop into Powell's Books for one trip, you'll need a wheelbarrow to carry all of your loot. The Crystal is only a couple of blocks away from this, the largest bookstore in our nation. So after your first trip, to get your bearings, you can soak, regroup, replenish, strategize. It's not a bad idea to train for your trip to Powell's with some upper body work, so you can carry all those books. Do some stairs, so you can travel to all of the floors. Perhaps you should take a dance class to heighten your kinesthetic body awareness so you don't knock into people among the cookbooks or graphic novels. Good thing there's a coffee shop tucked in the back.
Perambulate the Pearl
You're right in the middle of things in the Pearl District. Browse the museum/store of Fluevog. Approach the herd of food trucks. Graze. Repeat. Stumble into a bakery that you don't realize is vegan and gluten-free until you chow down on a super-sweet cupcake with a slightly different, uh, forkfeel. Read the fine print on the chalkboard sign. Ask for half and half for your coffee. Learn that the bakery has no dairy on the premises. Listen to the seven other kinds of "milk" you can enjoy in our beverage (the hazelnut "milk" isn't bad). Recognize that you're living a Portlandia sketch, and enjoy the moment.
Photo Credits: www.mcmenamins.com/CrystalHotel and WanderHubs.