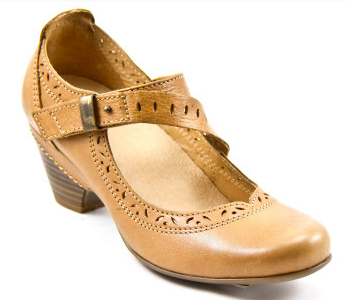 It's the holy grail of footwear for work or travel: comfort without frump.
The fine folks at Taos Footwear affirm that women can have both cute and comfortable. They recently sent me a pair of shoes to try out, the Lindo (above) in honey. (Honey Lindo: now there's a fine band name or novelist's nom de plume if ever I heard one.) The Lindo is also available in black, dusty rose, and light grey.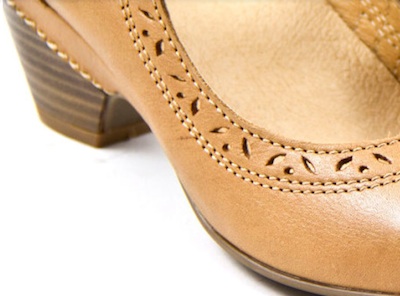 The shoe seduces you right away with its soft leather. "Laser chop-outs" create a filigree effect around the edges. Touches like these textures or unexpected colors–not to mention the sassy diagonal double strap–give these shoes an element of surprise and make them something special. The Lindo, like its close cousin the Tango (below, in dusty turquoise), evokes a Mary Jane but certainly not a plain Jane. The styles are both recognizable and playful, a mix the Taos web site calls "understandably fresh."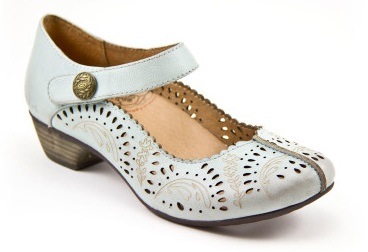 The shoes are practical, too. The heel is sturdy but not boxy. The Lindo strap has a buckle for decoration but fastens with velcro.
The Lindo is available in sizes 36-42 (EU sizing). I'll admit: these shoes are snug. I dwell between a 10 and an 11, where half-sizes are rare. So if in doubt, round up. As I break in these shoes, the leather responds and stretches. (Reader, if you must know, I'm dealing with some low-grade WanderBunions. I will not let them lead me down the road to Frumpville or socks with sandals. No! I will fight.)
One of my favorite features of Taos shoes is versatility. I wore my Lindos on Easter Sunday. I'm wearing them right this moment with jeans. Part of the Taos credo is that "The real world is denim friendly." Below, I've paired them with H&M denim of the leopard print variety.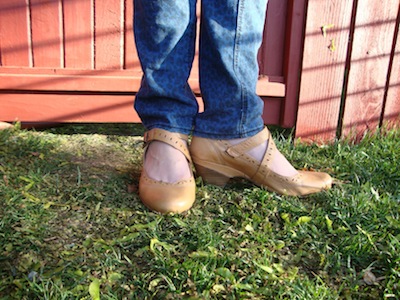 You'll want to check out Taos sandals and boots, too. Some of the sandals are a little too Birkenstocky for my taste, but the wedges look ready for the office and for fun.
Photo Credits: taosfootwear.com and WanderHubs