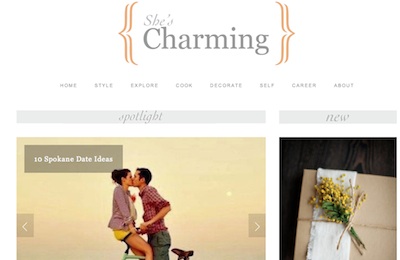 If you're looking around for blogs with style as well as soul, check out She's Charming. I had the good fortune to meet She's Charming Co-Founders Katie Palmer and Dani Erickson not long after I moved to Washington, nearly four years ago. I recently caught up with Dani and Katie to find out more about what it's like to run a web site together from opposite sides of the state.
Recently graduated with an English degree from Whitworth University, Katie (below) now works for People to People Ambassador Programs promoting travel for young students. She lives in Spokane, WA, where she enjoys sampling the local coffee shops and is constantly dreaming of her next adventurous getaway.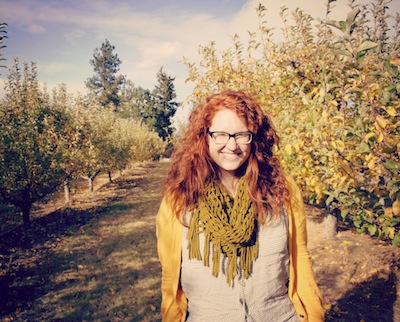 After graduating with an English degree from Whitworth University, Dani (below) moved to the heart of downtown Seattle and began working as a product copywriter for Nordstorm. She enjoys that fast-paced urban environment, the awe-inspiring views the city has to offer, and passing exactly six coffee shops on her five-block walk to work.
WanderChic: It sounds like part of the origin story of She's Charming is, as your site puts it, a "love-hate relationship with the fashion industry and the media." Can you say more about this conflicted relationship?
Dani Erickson: We definitely love fashion. We love the fun and excitement it creates, along with the ability to design a wardrobe that reflects your personality. But, we think it's so important that we don't let our external appearance define us. That's why we wanted our site to be multifaceted. Fashion is a beautiful way to decorate our lives, but it certainly isn't the end-all-be-all.
Katie Palmer: Personally, I love clothes. I think that style is knowing who you are and dressing accordingly. This individuality is alive and well in the Pacific Northwest, but based on what I've grown up seeing in the media, this celebration of personal style is not the widespread norm. That's what I hate about the fashion industry. On She's Charming, we celebrate the individual, and this is reflected not only in our style section, but across all content site-wide.
WC: One of my favorite aspects of your site is that you have features about fashion and style, but you also include other categories like "decorate" "self" and "explore." How did you decide on these categories, and what kind of readership do you hope to attract with them?
DE: Many of these categories sprang out of our goal to be well-rounded. As we strive to be multidimensional people, our interests will naturally take us in many different directions, and we chose these categories in hopes that we can encompass whatever it is that's of interest to us. I just wrote a post the other day about a mobile calendar app. I thought it might be difficult to keep such a techie thing consistent with our site, but I realized that it drops seamlessly into our Self category as the app can help us better organize our lives, and therefore ourselves. We hope to attract readers who, like us, want to continually learn and grow in all areas of life.
KP: I follow countless blogs that inspire me daily, but so few of them seemed to represent the whole picture or explore challenging topics. We decided to integrate aspects such as fashion, decorating, and exploring with categories such as self and career because we simply didn't see a need to separate them. We believe that there is already too much pressure to separate passion and interest from reality and work; why compartmentalize ourselves on our very own website?
We decided on our categories for a partly selfish reason: we really like them. Dani works in fashion and I work in travel. We both love decorating and exploring our cities and the world, and we are not ones to shy away from deeper articles. Based on feedback from friends, there were a lot of people who also shared this wide breadth of interests, and would appreciate a space to explore it all.
Since we are twenty-somethings, many of our articles have this lens, but I have received feedback from middle-aged women who are going through the same issues. When someone connects with an article that I write, regardless of their age, background, personal style, that makes our hard work worth it.
WC: How would you describe your personal style? How do you combine your aesthetics to create one seamless site?
KP: I like to mix classic with trendy (think Gap with Anthropologie) with a little boho thrown in there. She's Charming's simple aesthetic is the perfect palette to explore our respective styles.
DE: My style is soft and comfortable with pops of glam, which is also true of our site — you'll see relaxing, muted hues with some bright colors and sparkle sprinkled throughout. We designed our site to be built on the basic style we share, but to allow us to customize and blend our differences into one living aesthetic.
WC: Your site has broad appeal as well as an allegiance to the Pacific Northwest. Which places or experiences would you recommend for someone who wants to know more about the area? Which PNW experiences seem most iconic?
DE: To really know Washington state, you need to experience both sides of the Cascades. Explore downtown Seattle, check out the cityscape from the Space Needle or Columbia Tower, walk along the pier and end with a tasty meal on Capitol Hill. Then travel east — maybe stop to go skiing in the mountains — and visit the apple orchards all over Eastern Washington and take a cool dip in Lake Chelan before making your way to beautiful Spokane. Stop for as many hikes as you can along the way! The scenery is stunning wherever you go.
KP: This local aspect of our site is one that we are continuing to grow. We believe that where we come from and where we choose to spend our lives is extremely important, which is why this subject is so dear to our hearts.
I am a Spokane transplant of five years and I have no intention of leaving. While we don't have the culture or mass of Seattle, there's still plenty to do. I always recommend sampling local restaurants (there's even a Spokane Food Tour), strolling through Manito Park, and browsing the local shops. To me, the perfect iconic Pacific Northwest experience is spending an afternoon in a local coffee shop. Coffee shops are our second homes, and it is here where you can really get a feel for the PNW culture, style, and food. Check She's Charming out for some great recommendations.
WC: Do you have any upcoming travel plans?
DE: My husband and I have a couple local trips planned. We're going to a lovely wedding in central Washington over Memorial Day weekend, and then we hope to celebrate our one-year anniversary with a weekend away in Vancouver, B.C. My long-term dream, though, is to start in Turkey and go on a tour through the Mediterranean.
KP: Oh goodness, am I excited to answer this question. I am planning a two to three week adventure through Cambodia, Thailand, and Vietnam this fall with one of my best friends. It's been a few years since I've left the country and my travel bug is kicking in again.
In the meantime, I've been planning some day trips for this summer. It's so important to get out of town for the sake of perspective.
Here are a few of my dream trips: a beer tour through Germany, driving the perimeter of Ireland, spending at least two weeks in Paris drinking wine, eating cheese, and exploring galleries, a cruise through all of Scandinavia, backpacking Eastern Europe, and voyaging to Antarctica.
WC: What helps you get the most out of your travels? And what are your travel essentials?
KP: You've heard it before, but keeping a travel journal is by far the most rewarding thing I do while traveling. I just found my journal from my first trip to Europe when I was sixteen, and to read about who I was while I was seeing the world for the first time was a priceless gift I didn't even know I was giving myself when I was writing it. I was recently gifted a Rite in the Rain all-weather travel journal for my upcoming Asia trip, which I'm excited to test out.
WC: Fellow W&L blogger Angie Hilbert, of Wanderlit, has a review of Rite in the Rain as well.
DE: I get the most out of my travels through the people I'm with. For me, one of the best things about traveling is making memories with other people that you'll be able to remember together for years to come. Not only do you get to explore the world together, you also grow closer through those experiences. As for my travel essentials, I'm quickly learning to never travel without a swimsuit. There have just been too many times when I was unexpectedly caught without one!
Photo Credits: shescharming.com