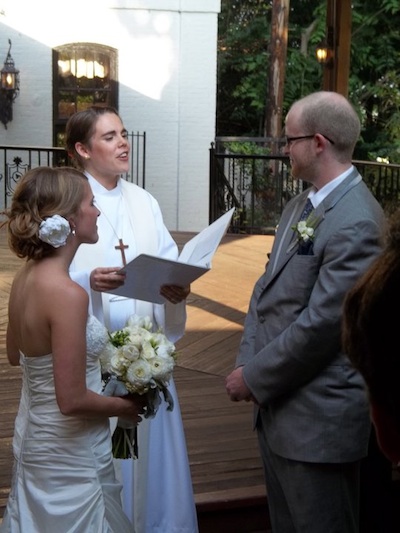 As Western Christendom's Holy Week scoots into high gear, I thought this would be an apt moment to consider the intersection of fashion and faith. My friend the Rev. Liv Larson Andrews (above, center) has a keen eye for style. She's also a Lutheran pastor, so she's a "woman of the cloth" in more ways than one.
Liv pastors Salem Lutheran Church in Spokane, Washington. She also blogs for Spokane Faith & Values. 

WanderChic: I'm guessing that as a minister, you've got some rules about what you can and cannot wear. How do you fit your style to those rules? Or, how do you express your fashion sense as a clergyperson?
Liv Larson Andrews: The choices about what to wear as clergy are less about rules and more about general integrity, I think. I'm coming to enjoy a creative aspect in myself, and gradually applying that to how I dress. So I'm more open than I have been in the past to experimenting with styles in what I wear on a daily basis.
A main influence in this department is my mother. She is ever stylish, in heels and blouses, while working as an elementary school librarian (where she has colleagues who wear Crocs.) For her, she feels the intentional way she dresses brings worth to the role. In a way, I feel the same. I don't dress the same way she does, but in exploring my own self and styles, I think I can bring worth to the role of pastor and express that pastors are really just normal folks with quirks and proclivities of their own.
That said, I suppose there are a few things off the list. But they would probably be off the list if I were a clerk or non-profit worker or whatever. Super snug or short skirts just make me feel nervous. Same with low-cut shirts.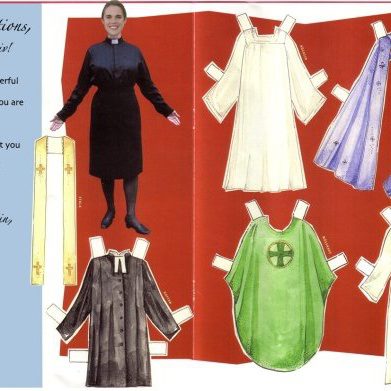 WC: What are the clothing options for a minister? Are there any progressive designers out there creating vestments (which I think of as "holy clothes") for women in ministry?
LLA: There is a company that supplies Lutheran seminaries with clerical shirts (the ones with little tabs or all-around collars in them). It's called Friar Tuck. In school, we ladies called it Friar Frump. Every shirt looked like a box with a collar on it. Argh.
Since then, there are several companies out there trying to provide for the needs of ordained women. One of them is WomenSpirit. In fact I just ordered a few shirts and an alb (white robe) from them. Some options are fitted, some not. But all of their products seem to honor the fact that a body with breasts and hips will be wearing the garment.
I'm quite excited about these knit collared shirts (below) from WomenSpirit.

WC: You've mentioned that on Sundays, you really have to choose your  earrings and shoes with care. What are your favorite lines of shoes and jewelry?
LLA: Ooh. Favorites. Hmm, all of the vintage jewelry at Carousel in Spokane catches my eye. Earrings are actually one area where I'm becoming more brave.
But Sunday is a bit different. A colleague of mine likes to say that the presider of worship should be like a cold glass of water: nourishing and clean, but only that. Able to point to what is truly meaningful: the sacraments, the community, and Christ's presence within them. So on a Sunday morning I tend to wear smaller, simpler earrings and take off any nail polish. Shoes need to be comfy and strong but also not draw too much attention. A few times a year I get a little festive, though. I definitely have bright red heels for Christmas Day.
The struggle in presiding is both to be fully yourself and also not get in the way of what the community is doing. The people are there to commemorate Christ and to be nourished to serve God in daily life. So my being cute or funny or attractive has no value. It could very well distract. But crisp, clean actions and looks can be helpful to keep the emphasis on the community's celebration.
WC: How would you describe your personal style? Where are your favorite places to shop? And while I'm at it, does shopping ever feel at odds with your faith?
LLA: As you know, I'm a thrift store shopper. Other than the occasional ModCloth dress or WomenSpirit clergy shirt, it's Spokane's thrift stores that supply my wardrobe. I recently had great luck at Global Neighborhood Thrift, filling one of their $25 buckets with some real gems. Fringe and Fray downtown never fails, too.
Ah, money. Surely, we can go crazy overboard with spending on clothing. The Luke 12 passage about the lilies comes to mind ["Consider the lilies, how they grow: they neither toil nor spin; but I tell you, not even Solomon in all his glory clothed himself like one of these"]. There is a sense that God wishes for us to be content simply as we are, to know our inherent worth. I think fashion becomes a dangerous path when it crosses into the territory of needing to look or seem a certain way in order to have importance or worth in the public sphere. In fact, for women, it is hard to stay out of that territory.
The faith community, which is called to value us as God does, just as we are, warts and all, can be so helpful in calling us back out of that ugly land of wanting approval. When we are certain and secure in God's love for us, we can take joy in dressing. And when we look to the community for ways to use our money well and wisely, our fashion dollars can be directed toward local and independent designers and makers. This may sound ideal, but it also sounds fun.
WC: W&L readers are travelin' folk. Do you have any travel plans coming up? What are your travel essentials?
LLA: I'm headed to Indiana in April to present at a conference. Which could be inches of snow or sunny and 70 degrees. The essentials there are flexibility and layers!