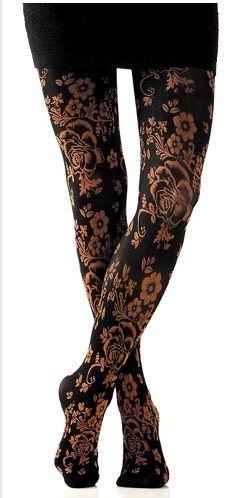 Central America is teaching me that stretch pants are for everyone. Especially in shades usually reserved for highlighters. I've also just learned that a google search for "classy fun tights" yields a wealth of options.
Recently I was traveling in Cuba, where I couldn't help but notice the parade of bright, form-fitting pants on a variety of body types, not to mention the array and ubiquity of patterned, peekaboo tights.
When we arrived in Cuba, a guy from our group was questioned about our itinerary not once but twice, on either side of passport control. I waited in flimsy solidarity with him by the luggage carousel and avoided eye contact with anyone at all costs.
At least half a dozen guards stood around in their khaki uniforms. Maybe they were hassling my friend to relieve their boredom.
Five women in khaki skirts stood near customs, each wearing a different and remarkable pair of stockings. They looked so cool, I thought, even as I just wanted the admittedly friendly guy in the beret to stop talking to my friend so we could finally meet up with our group.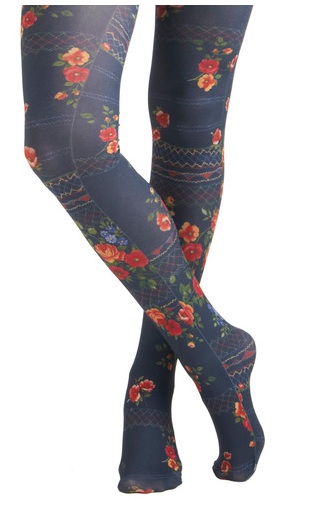 I wish I'd taken a photo of those tights, but I figured that yanking out my camera in the airport would only make the situation worse. And anyway, I saw more wild tights on the streets of Havana and later in Matanzas, Cuba. Such tights would've suited me in Cuba or in Costa Rica, where I'm living for a few more days. The tights would also work once I return to a more emphatic winter in inland Washington state.
The lacy tights at the top of this post (from foottraffic.com) would add a hint of fun to my lined-wool-skirt-and-tall-boots winter uniform. At least my kneecaps would get a little sun.
I think of myself as pretty bold when it comes to wearing color. But I get a bit squeamish with patterned tights. The floral tights above, from modcloth, strike the right balance between neutrals and brights. I could wear these with a skirt in a solid color or gentle print, to a meeting on campus or a night out with friends.
They could probably even get me through customs.