One of the lessons I'm learning in my semester abroad is how to remix the wardrobe I packed last August. How do I look ready to teach or at least less slouchy, so as to assure those on campus that I didn't sleep in my clothes? A surefire answer: put a scarf on it.
I brought two scarves with me. Both are patterned, which can be tricky because I tend to wear a lot of patterned shirts. I'm still learning how to clash artfully.
Students, staff, and Ticas here in Costa Rica know what to do with a scarf, both the regular species and infinity loops. I've even caught sight of a knitted cowl (and longed for my multi-colored one that's waiting for me back in Spokane.)
I've done a bit of window shopping on the interwebs, and here are a few of my favorite finds so far.
The scarf at the top of this post, from etsy seller storiarts, adorns necks with silkscreened passages from novels (in this case, a segment of Jane Austen's Pride and Prejudice that begins thusly: "Elizabeth's spirits soon rising to playfulness again, she wanted Mr. Darcy to account for his having ever fallen in love with her. 'How could you begin?' said she. 'I can comprehend your going on charmingly, when you had once made a beginning; but what could set you off in the first place?'") If you don't swoon for Mr. Darcy, well, you can choose scarves with passages from Jane Eyre, Persuasion, or A Tale of Two Cities. (Cue the English major squee!)
The colorful model below that it is the Courtside Chic scarf from modcloth.com. I inherited a similar scarf from my Nana Sheets, who collected all kinds of groovy accessories in her long career as a schoolteacher.
The above scarf is also from Modcloth (which I saw while reading wanderbliss, which must be an expat cousin of W&L?)
And lastly, I'm crushing on the very affordable "June scarf" (below) from etsy's GreyTheoryMill.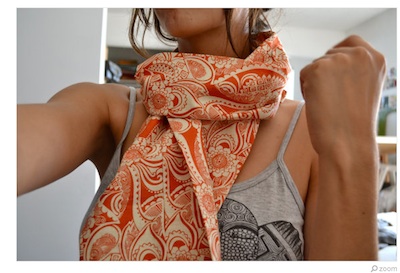 In case you need more of a pep talk, check out this article from Matador about the many uses of our friend, the scarf.