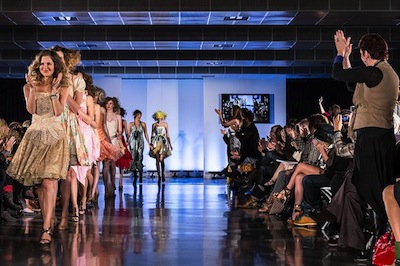 I knew I liked this video about Kim Cathers' 68-pound challenge even before I found out that Cathers is a Project Runway Canada alum. (I also found out that there's a Project Runway Canada, which makes me like Canada even more.) Cathers chose 68 pounds of clothing from a Value Village thrift store as the raw material for a Spring 2013 runway collection, which she presented earlier this month at Vancouver's ECO Fashion week. (Photo above, by Ed Ng, of Cathers' collection is from Super Poser Series.)
Cathers explains that she chose 68 pounds of material because the average North American tosses out 68 pounds of clothing and textiles each year. That's a lot of Forever 21 shirts, my friends.
Cathers' video is like a mini-episode of Project Runway. Cathers lives the dream (OK my dream. OK, one of my dreams) of pawing through Value Village castoffs in the wee hours to find hidden treasure. I'm especially struck by her painter's palette of clothing in her workroom floor. (Photo above of one of Cathers' looks is from Eco-Fashion Week's Facebook page.)
Part of the pleasure of Project Runway, of course, is seeing what fashion designers create under severe time constraints and with limited materials (not unlike Cathers' limit of Value Village wares). PR makes me wish I had a designer's eye. Maybe I should have paid more attention when Nana Sheets tried to teach me to sew. But at least I'm getting pretty good at shopping.
A few months ago I wrote a post about Elizabeth Cline's Overdressed. Cline sets a scene of her book in a Brooklyn Salvation Army, where floored by the volume of surplus clothing that hasn't sold on the floor and waits to be sorted, bundled, shipped, and sold overseas. Here in Costa Rica, I'm on the other end of that supply chain. Costa Rica is hardly a third world destination, but there are several Ropa Americana (American Clothing) stores full of U.S. castoffs.
As I've confessed to WanderChic readers before, I'm all about shopping opportunities that make me feel virtuous. Fair-trade bracelets? Yes, please. Keeping clothing out of a landfill by buying at Goodwill (or at Ropa Americana)? OK. Does it solve the bigger problems of U.S. overconsumption? Nope. Do I feel a little better about the future of the world when I'm wearing a new-to-me shirt? Sad to say, yes.