After eight days in Nicaragua, I've got a lot to think about. My skirts-all-the-way strategy (described in this earlier post) worked well, and a bit of MacGuyver laundry made up the shortfall in shirts and ladylike unmentionables.
Our group did touristy things like gorge on Salvadoran papusas and visit a pottery studio. We also visited sites like the Coyotepe fortress, where political prisoners were tortured both under the Somoza dictatorship and after the Sandinistas came to power. We met fair-trade coffee growers. We heard from banana pickers whose lives have been marred by the pesticide Nemagon.
I've been thinking about how to write about these experiences. How to avoid sentimentality and cliché. How to bear witness to what might be hard to face, much less explain.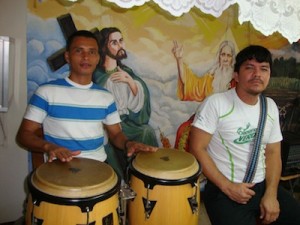 My students and I recently talked about some ideas on travel writing from Dinty W. Moore's helpful book Crafting the Personal Essay. Here are some of Moore's thoughts that have stayed with me:
"When travelling, try to see what is really there, not what past travel articles…tell you will be there.
"There is a difference between a travel writer and a tourist. A tourist is on vacation; a travel writer is on a pursuit.
"[P]ick an obscure neighborhood, eight square blocks, and really get to know that area up close.
"Add people to your story….Most people are flattered and eager to talk about the place where they live.
"[I]n his often-anthologized essays, [Pico] Iyer chronicles airport culture instead of cathedrals and explores the world's largest Kentucky Fried Chicken, found just off Tiananmen Square, near the Mao Tse-tung mausoleum. In other words, don't try to capture what you can see on every tourist postcard.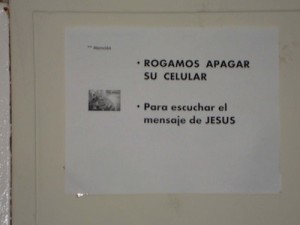 "Not all travel is uplifting and life-affirming. Were you pick-pocketed? Write about it. Do you suspect the cabdrivers of inflating their prices? Well, write about how it makes you feel.
"Be enthusiastic and curious. It will make your travel more interesting and will always show through in the writing."
I've been thinking about our first morning in Nicaragua, when we attended a lively Sunday mass at a Base Community church in Managua. These churches are still officially Catholic, though many of them don't have priests. They're tied to liberation theology and social justice issues. The photos above are from that service, led by a woman from the congregation.
In the midst of the liturgy, which I tried to follow, I couldn't help but notice a nearby sign (pictured above): "Please turn off your cell phones / to hear the message of Jesus."
My Spanish isn't all that great, but I understood clearly when she welcomed our big group of gringos with "This is your country. This is your church." I was humbled by the warm welcome, made warmer by the many kisses from the cheeks of abeulitas.