One of my favorite writers, Pamela Balluck, finds writing material on the road, in big Western skies, and in newspaper archives. She recently shared her insights about the intersections of travel, memory, fiction, and family. Plus Pam whips out adjectives like "Jed-Clampett-like" and "dinosaurish."
The photo above was taken by Pam's "East Coast cousin" Barbara Zahm, on City Island. The photo of Pam on horseback was taken by her "West Coast cousin" Lari Shea. Pam took the photo of I-15 while driving from Las Vegas to California.
Pamela Balluck shares story credit on a 1982 episode of NBC's Little House On The Prairie, "A Faraway Cry." Her creative writing has appeared in, among other publications, the Western Humanities Review, The Southeast Review, Quarter After Eight, Square Lake, Jabberwock Review, Barrow Street, Pank, Night Train, Freight Stories, Avery Anthology, Prime Mincer, and is forthcoming in Robert Olen Butler Prize Stories, The Ocean State Review, and The Way We Sleep. She teaches writing at the University of Utah.
WanderChic: Tell us a bit about the writing projects you're working on now. How is travel involved?
Pamela Balluck: Projects, plural, is right. In order to sanely ping-pong and zigzag between fiction and nonfiction projects, I categorize every story and essay and chapter as belonging to a particular book-in-progress with its own folder on my computer (and on a cloud) and in physical cabinets.
What was once my dissertation, Development Girl, is being rehabilitated into a linked story collection, Development Girls. My protagonists are road trippers (their vehicles, in some cases, become characters in the stories); and of course there is flight—pre- and post-9/11. Flight is a theme throughout my work—flight from, flight to, the urge to fly. Or to drive. "Braintanning," a long D-Girls story I recently completed, is set at the end of one research-related road trip from San Francisco to Portland to Missoula and concludes prior to another road trip, from Montana to Oregon.
I'm completing the last story in the collection, which involves multiple characters road tripping to converge upon a Napa Valley town in celebration of one of them who has recently passed and whose ashes they will, in concert, leave where they're not supposed to. I'm also picking away at pieces of: Guest House, another linked collection spanning decades; The Gammut Bunch, a novel set in 1973-74 Los Angeles; Once Removed, a novel involving "incestuous" relationships (again, following multiple protagonists); an essay collection called Running From The Wasps about living in and leaving L.A.; and a book of memoir I'm calling Self Storage.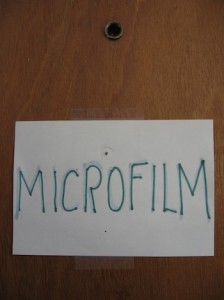 WC: You mentioned that you have a MICROFILM sign in your apartment. How does it feel to immerse yourself in these older forms of data storage?
PB: An index card taped to the inside of my only door out reminds me daily that I need to be building an archive of Los Angeles Times articles and ads from right before The Gammut Bunch (a portmanteau of two entertainment-industry families' last names in the Brady Bunch era) begins, early in 1973, before the Watergate Hearings and a Writers Guild of America strike, continuing through the beginning of the (initially unmanned) Skylab space program, the Arab Oil Embargo and gasoline rationing—the "energy crisis"—and ending in '74, after the imposition of year-round daylight saving time and the third crewed Skylab's successful return to earth.
I have Pavlovian reactions to the L.A. Times, I think. This newspaper was so much a part of my daily life growing up and into adulthood, the Times not only makes a good trigger, is not only good for fact-checking, but for building my characters' day-to-day existence. The Times and its headlines will make regular appearances as another entity at the breakfast table every morning. When I look at the L.A. Times of then, even on the screen of a microfilm machine, I feel as though I can smell the paper and ink and half expect my fingertips to come away blackened.
I feel so engaged and wowed back in time when I'm doing that kind of work. In the twenty-first century, it's noisy but clean and easy, scanning right off the machine, saving P.D.F.s onto drives and clouds. The Gammut Bunch takes place over nine specific months; I'm nowhere near having compiled all I want. So, the MICROFILM sign on my door remains.
WC: You've lived in many interesting places, and now you're based in Salt Lake City. Does Utah feel like home to you now? What do you most enjoy about Salt Lake?
PB:You're talking to a person with a blank passport. I acquired my first only four years ago, the year I finally graduated with my Ph.D. I had some vague idea that my life would change so that I'd be able to afford a trip to Greece to celebrate my fiftieth birthday the following year.
I was born in New York City. My parents were Cleveland theatre rats, and after my mom graduated from Western Reserve, she moved to New York to attended the Neighborhood Playhouse School of Theatre for two years; my dad, who never went to college, followed her there. They married after she graduated, and a couple of years later came me, a summer-stock baby. My dad was an actor turned budding playwright, and in 1960, when my mom was pregnant with my sister, we moved to Hollywood, where my sister was born, where my parents eventually divorced, and my father became not only a working but a successful television writer.
Our legendary move from New York to California was my first taste of travel adventure, not from my trip—I was an infant—but from the story of my dad's Emersonian trek across the country, Jed-Clampett-like in our packed-to-the-rack Rambler (Mom and I flew). On his way to California from New York, Dad drove through Utah and Nevada before there were interstate highways quite like now, thrilled by the tumbleweeds that lodged themselves in his grill, awed by the vastness of the west.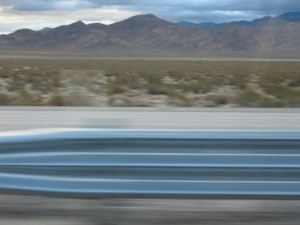 From L.A., before my parents divorced, my mom used to take my sister and me on road trips to and camping trips in national parks, but mostly to visit family and friends in Northern California and Mom's parents, who had moved from Cleveland to San Diego, a couple hours south of us. I didn't love the grandparents-inspired trips, but I fell in love with the San Francisco Bay area and the trips there and back, often in the dead of night because of California heat waves, before air conditioning.
I would lie on the back seat of the Rambler wagon, windows open, and when my mom stopped for gas in Bakersfield, I would, like an addict, open the door and stick my face full out to inhale the leaded fumes the way I now stick my nose into the aroma of coffee beans (and, I always associated the Ethyl pumps with Lucy's friend Ethel—I Love Lucy has been in rerun my whole life). I loved the smells and dinosaurish silhouettes of oil derricks we passed along the way, that inland route between Southern and Northern California, before I-5 had been completed through the San Joaquin Valley. My mother's road tripping, her own love of horseback riding, and my father's writing for a western later in the '60s (High Chaparral, brother show to Bonanza) all went toward forming me into a horsey California girl, and at ten I got to move to and live on a Montana horse ranch for a few years before my mom died there of cancer, married to someone other than my dad. From Montana, our road trips were to Spokane and Seattle, where we had friends and mom got treatments, and over the border, to Canadian hot springs.
Back in L.A., when I became a licensed driver, I became an instant road tripper, testing the waters of independence, in a tiny Honda hatchback my dad had bought me, with jaunts to Mammoth Lakes and to Reno; later, becoming familiar with the drives north, to San Francisco, and norther, to Mendocino, where a cousin owns a Redwood Coast horseback-vacation business. Mendocino is like a little New England fishing village but on the Northern California coast, where much of Denis Johnson's fiction takes place. It's so much like a New England fishing village that it's where Murder She Wrote was shot.
When I graduated high school in '77, the older boyfriend that I had met when I was modeling at a clothing convention in San Diego had been there from San Francisco. A long-distance relationship ensued; and, when his job relocated him from the Bay Area to Dallas, I left L.A. to go there with him, at least for the summer. This, and my road trip out of Dallas and back to L.A. inspired the fiction, "Don't Touch the Windows," published last year in Freight Stories.
After my new, 1990 four-wheel-drive Trooper and I spent a test summer in Montana, I began saving for a move back. In '92, the riots in L.A. that followed the verdicts acquitting the police officers who beat black motorist Rodney King motivated me to step it on up (this month makes the twentieth anniversary of those riots). In '93, I left my Hollyweird talent-agent job and moved back to Montana to detox from L.A. I didn't think of leaving as "white flight"—a term I wouldn't learn until grad school—but as fleeing the usual crime (and now fear of police), traffic, smog, and family I felt it was about time I lived apart from. I had dropped out of L.A. Valley College in '78 to work (I didn't know what I wanted to be) and returned to school in Montana nearly twenty years later to complete a B.A. in English.
I left Missoula in '98 for the M.F.A. creative-writing program in Salt Lake City, from which I graduated in 2000, the year my dad died. In 2001, I began Utah's creative-writing doctoral program. And I'm still here in Salt Lake City, writing away. But I do dream of writing somewhere else. It seems unreal to me that I've been here nearly fourteen years.
"Does Utah feel like home?" No. I like living in Salt Lake City. It's beautiful—with mountains to rival those in Glacier National Park—it's clean (except, too often, the air), it's convenient, a nice size, and the artistic community is huge. But, when I drive up to Montana, my eyes see and chest heaves and lungs taste air differently in a this-is-home way. Whenever I drive west to the Bay Area, I get that this-is-home feeling, because it's so much a part of my history since childhood. When I drive to L.A., my home town, no matter how much has changed, post riots, post quakes, I find myself driving around by rote. Maybe I'll return to Salt Lake one day from wherever I'm living, and I'll feel some of this. One of my favorite things about Salt Lake is I met you here, Nicole.
WC: The feeling is mutual, PB.
Tune in next time for Part II of the interview, in which Pam talks trips, maps, and books.