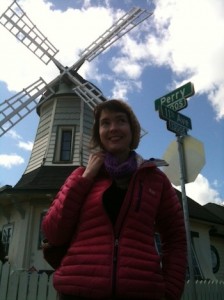 Natalie Goldberg's creative writing handbook Writing Down the Bones includes a chapter called "A Tourist in Your Own Town." Natalie Goldberg is Buddhist, and her book is a Buddhist book. The short chapters drop some wisdom on you and then leave you to contemplate the white space or a lotus blossom.
The gist of Goldberg's chapter is to see our familiar surroundings in a new way. So for the next few months, I'm taking Goldberg's advice and exploring Spokane.
This past Saturday I set out with a Spokane friend to explore the Perry District. As we walked to Perry Street (clever, eh?) we passed a mob of kids lined up for an Easter Egg Hunt. Organizers wore screaming yellow t-shirts, and kids wobbled with their Easter baskets brought from home. We've had a rainy spring, and even some hail on Good Friday, so temperatures in the 50s felt like paradise. Kids played basketball. Adults with plastic bags walked their dogs.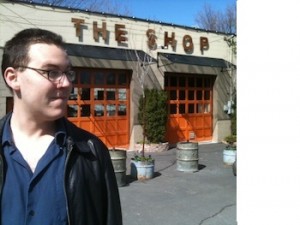 Friend and I wanted to check out a thrift store called Windfall. The store didn't open until noon, though, so we headed down a couple of blocks to The Shop, a hip cafe with giant orange garage doors that let in generous light.
In my effort to be a travel writer who offers more "tips," here's a tip:
To be a tourist in your own town, don't rush. I'm sure you know this already, but hurrying leaches the joy out of the task. Keep in mind that this advice is coming from someone who is almost always late for something, and who has been known to shout things like "Move your ass, I'm late for yoga" from the glassed-in safety of her own car. I haven't mastered this tip yet, but I'm trying, as they say, to set myself up for success.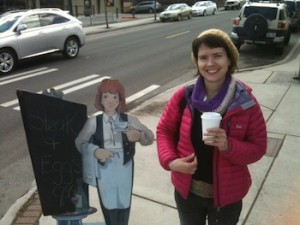 The Perry District was crawling with kids in face paint toting their bright baskets. The line at the small coffee shop was three or four people deep, which on a weekday morning would be way too long for me. But I'd already blocked out time for my tourism, and I had nowhere better to be.
A man with a wispy Father Time beard and a science fiction paperback said we could join him at his big table. We chatted about the community gardens in the same park as the Easter Egg hunt. Turns out that our new table friend, Bob, volunteers with a nearby schoolteacher to help some of her students care for plants.
A tiny girl standing on a chair tumbled to the floor. And a woman brought a beagle into The Shop that tried to hork up something unholy near my foot. I sipped my tasty drip coffee, moved my foot to the far side of the table, and smiled.