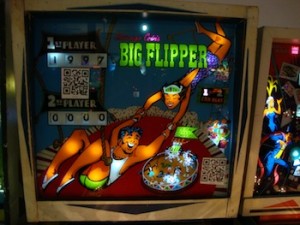 I found the change machine that wasn't so finicky about crisp dollar bills and filled my pocket with quarters. One of my pinball companions flaunted the "quarter boob" in his shirt pocket. The Las Vegas Pinball Hall of Fame has no admission fee, just 10,000 square feet of working pinball machines from decades past.
This cozy warehouse fills with the hypnotic glow and tinny plinks and jingles of old machines.  There are a couple of Coke machines and some Salvation Army fundraising candy displays by way of concessions.
I played some vintage machines, such as the circa 1970 Big Flipper, shown above. I was also made in the 1970s, so I have a hard time calling this machine "older." But the newer games are so much fancier and complicated that they really do belong to another generation. (A link from the Hall of Fame web site leads to the Internet Pinball Machine Database, which awards the Big Flipper an indeterminate Fun Rating.)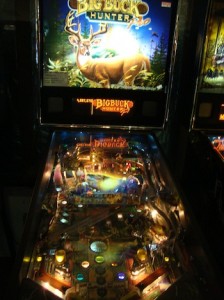 The newer games cost 5o or 75 cents, compared with 25 cents for the earlier models. At first I huffed a little at having to pay more to play the Shrek game, but I discovered that the higher price was worth it. The flippers in the older games seem stunted compared with the longer, more agile contemporary models.
In the newer games, I had much more of a shot at keeping the ball in play. The games lasted longer, with more blinky things. And in the case of what became my favorite game, Big Buck Hunter, a plastic buck would scoot from the sidelines to the middle of the playing surface, and you could try to take him down with the ball.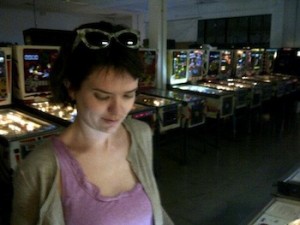 Also, the new games have given way to serious score inflation. I might be really lucky to earn 2,000 points in an old game, whereas a novice like me could quickly rack up hundreds of thousands of  points playing Dr. Who or South Park. With the old games, you qualify for an extra ball with a high score. The new games run through this "match" ritual, in which the computer thinks of a number, and then another number, and if the numbers match, you keep playing. (My numbers never matched, and in the South Park and Shrek games, the "match" takes the form of a digitized farting contest, but whatever).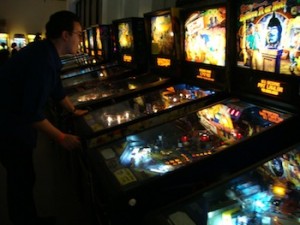 The place had a familiar feeling that I couldn't pin down until I was one Diet Mountain Dew and five bucks' worth of quarters into the evening. And then it hit me: all the Thanksgivings and Christmases spent in the cousins' finished basement den with a working pinball machine. We'd play pinball, then a few fierce rounds of Simon, then have some cookies.
Las Vegas bills itself as a city of forgetting, but the memory hit me hard.