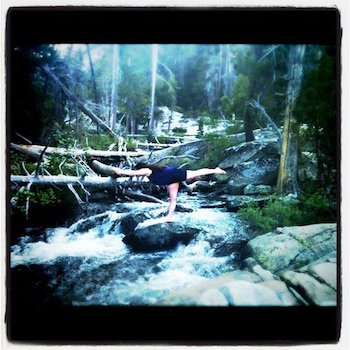 Erin Bechtol is an editor and cupcake baker at Bona Fide Books in Lake Tahoe, CA. Having recently completed a degree in English writing at the University of Nevada, Reno, she is looking forward to leaving her hometown and shifting from editing to writing as she travels the world.
I met Erin Bechtol after I had an essay accepted a couple of years ago for Permanent Vacation, an anthology published by Bona Fide Books about living and working in national parks. (For the record, my essay is about cleaning hotel rooms in Yellowstone. Let not WanderChic's horn go untooted.) Erin recently chatted with WanderChic about Tahoe, travel, and the nerdy glamour of the editorial life. She also supplied the photos.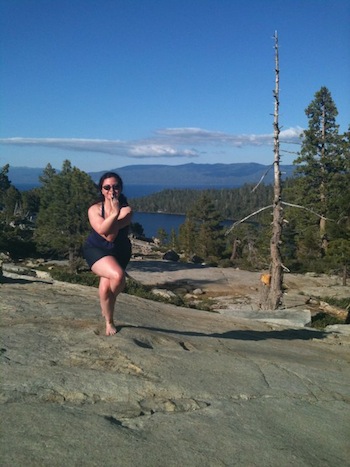 WC: What is your role at Bona Fide Books? How did you get into the publishing and editing business?
EB: Strictly speaking, I am the editorial assistant at Bona Fide. Since we are truly a small press, that leaves me with tasks ranging from laying out books to painting our Bollywood-themed chairs for the office and finding fire spinners for poetry readings. There are a bunch of pictures from around the time when we moved in to our new space where I'm baking treats in the office mini-cupcake maker. I'd like to think that all publishing jobs are like this, but I'm starting to think we just do things our own way in Tahoe.
I got into publishing by sheer luck, really. I was in the middle of my undergrad at the University of Nevada, Reno, but living in/commuting from Lake Tahoe (about an hour and a half away) when I saw a list of English department internships that included one in Tahoe. I figured I'd give it a shot. After the interview, Kim Wyatt, the publisher, took me on for the semester and hired me directly after. I was fortunate enough to get in on the ground level and be able to see Bona Fide's first book through from start to finish.
WC: What's the best thing about your job?
EB :I've found through working on Permanent Vacation and our second anthology, Tahoe Blues, that I love editing in a way that exceeds even my nerdiest expectations. Having the opportunity to work with such incredible writers (the interviewer included) is a delight, and diving in to the finer details of the work is right up my alley.
Of course, in a town with very little culture, it's also been wonderful to be surrounded by creative types at work every day. Difficult to pick one best thing.
WC: What's it like to live in a place that's also a tourist destination?
EB: Actually, I was born and raised in Lake Tahoe, and have yet to get out. I lived on the Nevada side of of the lake, a short walk from the casinos, so it felt for a long time like I lived in a place that belonged more to the tourists than to me. Both my parents worked at the casinos, too, so as a kid I spent more time among the fake trees in the Harvey's Casino arcade than I did in the forest outside my front door. Being surrounded by that many tourists, it's easy to become jaded, but without them the town would shrivel up, the economy would fall apart. It's a bit of a complicated relationship, a strong "us vs. them" mentality with a reluctant interdependence. All things considered, though, who could complain about living in Tahoe?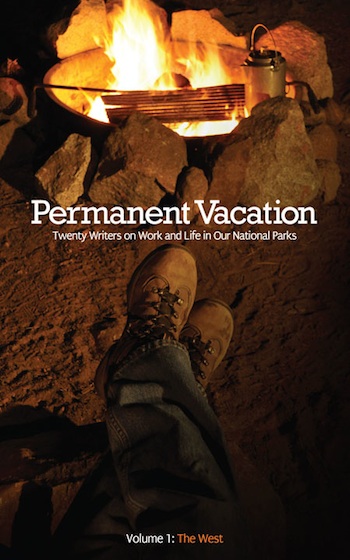 WC: The Permanent Vacation anthology focuses on U.S.National Parks. Do you get to visit the parks as part of your job? And do you have a favorite?
EB: You know, it's a rather shameful secret, but I've only ever been to one national park. I went to Yosemite once as a teenager and we didn't stray far from camp. While Kim, the publisher, worked in Yosemite for years and lived in Alaska for a stretch too, I've been quite sheltered from the national parks. So working on PV, every essay was a surprise. I related to the perspective of people who live in a tourist destination, but the rest of it–the climbing, the adventure, the grizzly bears–was all new to me.
WC: Do you have trips on the horizon?
EB: I do have quite a big trip coming up — I'll be leaving for South Korea in a couple months to teach English. I'm a little nervous, but I hear the hiking is great just outside of Busan, so there's plenty to be excited about.
WC: How can Wanderlust and Lipstick readers participate in Bona Fide's projects?
EB: Wanderlust and Lipstick readers should know we currently have submissions open for our next two anthologies: one on the Tahoe Rim Trail, and the other a sequel to Permanent Vacation open to people who have lived or worked in national or state parks, historic sites, seashores, etc. You can see our website at www.bonafidebooks.com for more information. We also have a site just for Permanent Vacation at www.pvstories.net where the book's contributors blog and share video from their travels around the parks and readers can submit their own stories.