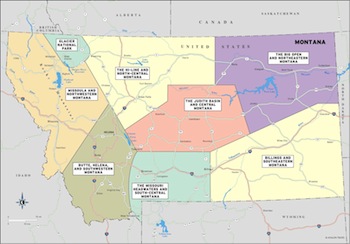 It's not every day that Wanderchic blogs on location. She's chillaxing this weekend in Hot Springs, Montana, about 180 miles from WanderChic HQ in Spokane, Washington. Hot Springs is a town big enough for a high school and senior center but small enough to fit its downtown into a couple of square blocks. It's one of the locations mentioned in a Moon Travel Guides article about Montana's hot springs (the source of the map above).
I'm sitting near a wood stove in the lobby of Symes Hot Springs. The jam ladies just packed up their wares. (After a brief retail consultation, including a primer on the difference between jelly and jam, your faithful correspondent bought a small jar of their "triology" recipe. The jam lady said it's her own mix of blueberries, raspberries, and huckleberries. I hadn't thought about the huckleberry, save Hound or Finn, before moving to the Inland Northwest. So far my research has involved a huckleberry mojito at Priest Lake, Idaho, last summer, and watching people's eyes roll back in their heads when you get them talking about huckleberry milkshakes. Even the Montana Gift Corral Blog, from whom I borrowed the photo below, waxes rhapsodic about the "scrumptious purple orb." I digress.)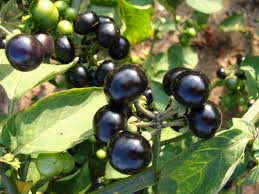 When we arrived at Symes last night, we ordered a round of PBR. A man at the bar said, "You mean you can get her to drink from a can?" and looked me over.
"It's one of my most recommending features," I said.
A middle-aged guy in a hoodie and jeans played Pink Floyd covers to a dining room empty except for one lone guy and his brew and a long table full of giggly teenagers. "You all getting ready to soak?" he asked us between songs. My blue fluffy bathrobe must have given me away.
We soaked in a small, hot pool with locals who tried to figure out if they knew each other and what sounded like schoolteachers on break. A friendly stoner flipped his wet mane like a girl on the hood of a car in a Whitesnake video and then offered a pool noodle to the schoolteachers as a consolation for splashing them.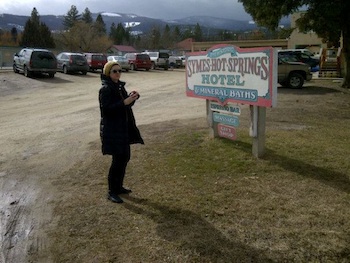 OK, enough typing. I have a few more hours to soak in the silky, stinky water flanked by mysterious mountains, so I'd better get to it.