I'm from a teeny family. But my parents, brother, and I started a secret-santa-style gift exchange a few years ago. It's one of our favorite traditions, right up there with the ol' annual screening of National Lampoon's Christmas Vacation and a trough of my parents' homemade party mix (the kind basted in butter and Worcestershire sauce and generously dusted with French fried onions).
My family and I draw names when we're together in the summer. We've set a $30 limit, though there's a tendency to round up. I'm closing in my present for my family member (no spoilers. Relax). As I ride out some retail endorphins, I thought I'd jump on the Wanderlust & Lipstick bandwagon and ruminate on stylish holiday gift ideas, especially for the people in our lives who have a way with words.
Upcycled and recycled books make great journals, such as the one pictured above from Gabblehatch, an etsy seller. I have a couple of similar journals, made from discarded library books, that I bought from an artist in Salt Lake at a farmers market, and I've used the holy heck out of them. I love flipping past some goofy illustrations before I get to the big blank squares.
I'm also crushing on this journal from etsy's El Codice de Eremita (Hermit's Codex), handmade in Oviedo, Spain.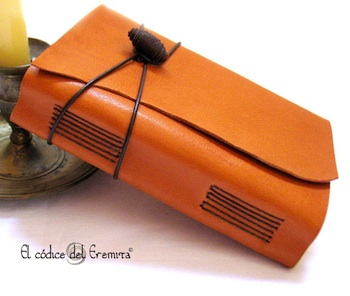 This journal, from the shop's Meditatio series, is over an inch thick, with a sheepskin cover. It's described on the site as "particulary serviceable. Enjoy of its smell, feel and warmness." OK! I'm guessing this journal is no less than a little brick of sunshine in one's carry-on.
While we're talking books, now's the time to make a $10 donation to Passports with Purpose. Travel bloggers have joined forces to raise $80,000 for Room to Read, with the goal of building two libraries in Zambia. If you donate by December 16, you have a chance to win a variety of prizes, too.