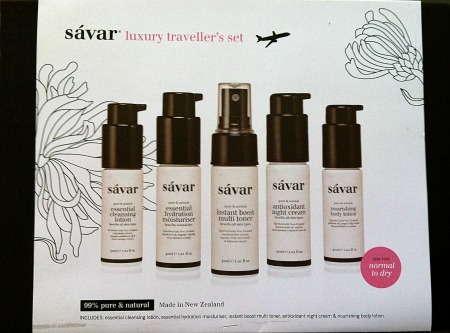 For all the fun of frequent travels, wanderboomers know that stale cabin air and stuffy hotel rooms take a toll on your skin. Add a dose of wintry weather, and your once soft, silky skin is bound to become super dry, resulting in itching and flaking. Not a pleasant picture, is it?
The solution, of course, is to hydrate: drink plenty of water, spritz water on our faces, and avoid long soaks in the bathtub. While it's doubtful that drinking 10 – 12 glasses of water daily will result in having younger-looking skin (darn it), applying moisturizers that actually penetrate the skin can do wonders.
Enter Sávar, a New Zealand-based company promoting premium 99% natural skincare products combining the best in "nature, style and sustainability." Enriched with pure plant extracts (like marshmallow, hibiscus and organic white tea) and oils (blackcurrent, rose, starflower, for example), the skincare products are designed to cleanse, nourish and protect even sensitive skin.
Not only was I eager to take a trial run of the Sávar Luxury Traveller Set as an alternative to relying on the lotions that I frequently find in hotels. I was also up for a little pampering, a way to create more of a spa experience simply by using luxury skincare products. While I wasn't in need of a quick-fix skincare miracle, I did hope to have softer, more hydrated skin after applying the products consistently morning and night while on the road. If it meant ending up having more gorgeous, younger-looking skin at the same time? Well, what could be wrong with that?
My set arrived in a handsome, recyclable box with magnetic lid, complete with five travel-sized (30 ml.) skincare products: essential cleansing lotion, essential hydration moisturizer, instant boost multi toner, antioxidant night cream and nourishing body lotion. Each item is lightly scented in lockable containers so no need to worry about spillage when repacking for your flight home. As lovely as the packaging is, I only wish it had included a cosmetic-size bag in which to store the products while traveling.
After using the skincare products for a couple of months, I'm definitely a fan of the Sávar line. I loved the barely-there fresh scent and silky feel of the moisturizers and lotions on my skin. And how much younger do I look? Well . . . While Sávar may not have succeeded in making me look younger than the age on my driver's license, in all fairness, it's not a claim promised by company Founder-Director Vicky Woolford. But did my skin feel healthier and look more radiant after using the products? Yes. Maybe it's the result of having more hydrated skin. Or maybe the glow comes from my smile of contentment knowing that I'm taking such good care of myself when away from home.
Thanks to Sávar for providing their Luxury Traveller Set for my review purposes.
For more information on the company's natural skincare products and current pricing, visit Sávar.
Wander on!
Nancy
What little luxuries do you pack in your travel bag, wanderboomers?