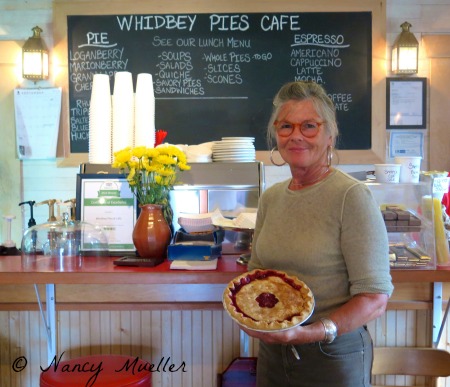 My ongoing quest to crack the code of perfectly handcrafted pie crust has led me to Whidbey Pies Cafe at Greenbank Farm on Whidbey Island more than once.
Each time I've stopped by for a slice of their delectable berry pie, I've asked if proprietor, Jan Gunn, would consider sharing her recipe for publication. Each time my request has been politely rebuffed with a smile or "Nice try" by the server as I wrote in a previous post. But on this visit, I was fortunate to be introduced to Ms. Gunn herself. And this time, I succeeded – kind of.
After gushing about the taste and tenderness of the crust on my Whidbey Triple Berry Pie, I asked again. At first, Ms. Gunn hesitated. Then with a shrug of her shoulders replied: "Oh, why not?"
To be fair, her initial hesitation in sharing the recipe wasn't from lack of generosity or even proprietary interest. After reaching for a well-worn copy of Joy of Cooking, she explained: "We turn out 800 pies a week so I have to think about the ingredient proportions to give you for fewer pies than that."
We played around with the ratios a bit – "Maybe 2 cups unbleached pastry flour, 1 teaspoon salt, 1/3 cup butter . . . " But Jan's most significant revelation for me came next: "We don't use shortening. We use 100% pure coconut oil." Aha! Now we were getting somewhere.
"Oh, and then add 2 – 4 tablespoons water."
Thanks to Jan, the next time I'm in the mood to make a pie, I now have a trail to follow. I'll reach for my own Joy of Cooking, noodle with the ingredient ratios a bit, then jump right in. But whether I go for a berry, seasonal or savory pie – cherry, apple, pumpkin, peach or meat – I can only hope my crust comes close to the exceptional creations at Whidbey Pie Cafe.
Wander on!
Nancy
What's your no-fail pie crust recipe, wanderboomers? Please share with us here.
Still hungry? Check out these wanderblogger posts on Wanderfood Wednesday: