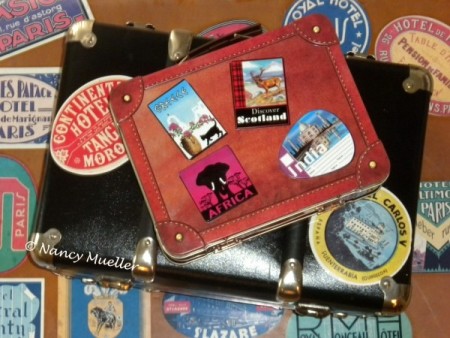 Lately I've been humming the lyrics to that classic Eagles' hit, "Take It Easy:"
Well, I'm running down the road, trying to loosen my load . . .
No, I don't have seven men on my mind, but I am looking for ways to lighten my travel load. Gone are the days when I took my first flight from New York to Washington State and brought my entire set of hard-case American Tourister 4-piece luggage with me. I loved that now-vintage blue train case! I miss it, but not enough to spring for another one now on eBay. At least I learned fast. By the end of my graduate school year when I went home to visit, I ditched the luggage in favor of a backpack.
At this stage in my life, I'm looking for moderation. When I'm on the road nowadays, I want more than a backpack but less than a 4-piece luggage set. A duffel bag can get me through a long weekend – without makeup. Otherwise, for the most part, I'm happy to comply with airline rules which limit carry-on baggage to usually one small bag, plus one personal item.
In my ongoing quest to lighten my travel load, I asked several world travelers how they do it. Here are a few of the packing tips I received:
Bags, Sacs & Luggage
"Plastic bags! For dirty washing, wet things, toiletries, sitting on, using to squash things down inside bags, so many uses!" – Jennifer Jain, jenniferslittleworld.
"I always travel with several clear but colored zippered pouches. Most I get very inexpensively at the Asian import stores in our area. Great for sorting cords, batteries and chargers especially. The color coding helps too." – Elaine Masters, tripwellness.
"Soft mesh assorted size bags to keep suitcase orderly. eBags suit me. Rarely a loose item in my suitcase." – Christine Tibbetts, TibbettsTravel.
"Compression sac so I can squeeze my clothes into it which leaves room for other goodies." – Beth Whitman, wanderluster.
"I LOVE my Kelty Ascender. It is a great piece of luggage and can be either a wheelie or a backpack. Durable, compact and all-around fantastic." – Diana Lauren, dtravelsround.
"I swear by my Briggs and Riley bag — carry-on size and is convertible between a backpack and duffel. Love that bag." – Lindsay Taub, lindsaytaub.
"I love my sling bag that is feather like and holds everything!" – Neala Schwartzberg McCarten, offbeattravel. 

"Check out Timbuktu, my husband has one of their black shoulder bags; he's a ferry commuter and it's ideal. Casual yet professional." – Sue Frause, eatplaysleep.
Clothing
"Flip-flops because they can double as beach shoes and slippers and give you a comfortable alternative after lots of walking~ – Irene S. Levine, moretimetotravel.
"A sarong. One of the most useful items I own." – Talon Windwalker, 1dad1kid and Cathy Goldner, solo-travelers-alliance.
"The smartest thing I ever did was invest in a strategic, simple, dedicated, travel wardrobe. I pack 3 outfits of three pieces each, all interchangeable. A skort, a tank top, and cardigan = 1. Pants, t-shirt, and light jacket = 2. Skirt, sleeveless tunic, and oversize camp shirt = 3. If I'm going to be traveling longer than 2 weeks, I add an extra pair of pants and a versatile dress. If I'm going somewhere cold I'll add a pullover sweater and a pair of leggings. This wardrobe "lives" in my packing cubes. I'm basically always packed and just toss in the "log trip" cube or "cold trip cube" if needed." – Angie Hilbert, wanderlit.
"There's a company named Icebreaker and they make merino wool products that I can't live without. I use the layers for skiing and they are incredible (warm, stay dry, and really don't smell at all) and now they're also making summer dresses etc for women that are GREAT for travelling because of their "no stink" technology and if you do wash them by hand, they dry in a jiffy! Can't get enough of their stuff. makes "packing light" do-able." – Eva Gold, Passports & Pamplemousse.
"RejuvaHealth Compression Leggings . . . Tieks by Gavrieli . . . Scarves." – Jennifer Dombrowski, jdombstravels.
"Comfy slippers, cozy socks" – Gayle McCarthy.
For more, check out Favorite Items to Lighten Your Luggage – Part II – (Electronics & Miscellaneous) or read about packing light for a luxury trip!
Wander On!
Nancy
What are your favorite travel items to lighten your luggage, wanderboomers? Please share with us here.