Take a rain-drenched Sunday afternoon in Seattle. Invite a few of your favorite distilleries for a grand tasting tour at the Old Rainier Brewery. Sell tickets to the general public to benefit the Washington Distillers Guild. Sound like all the makings for a singular event? You bet. Fun, educational, plus the chance to sample some of the best distilled spirits in the nation.
Before attending the "Meet Your Maker" fundraiser, I had been blissfully unaware of our growing Washington State craft distillers phenomenon. Still, the movement makes sense given our region's knack with beverages and innovation. After frappucinos, fine wines and microbreweries, why not artisan distilleries?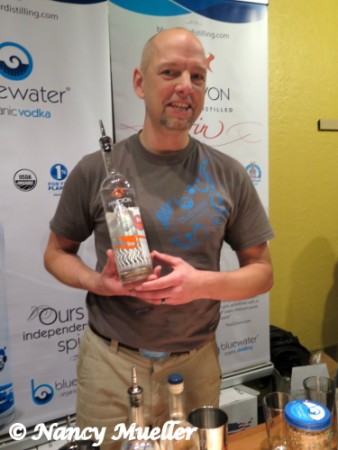 For this tasting event, I sampled a few of the dozen or so  (not a "few dozen") gins on hand – all in the name of focused investigative research, of course. John Lundin of Bluewater Organic Distilling offered a sip of their 2013 award-winning Halcyon Gin to start. Mmm . . . Smooth. Soft. Subtle. An easy choice for sipping or for a dry martini (shaken, not stirred, thank you). Driven by their love of the outdoors, Lundin and his wife Jessica support "responsibly crafted artisan spirits," becoming the first distillers to join the 1% for the Planet Network, supporting environmental organizations.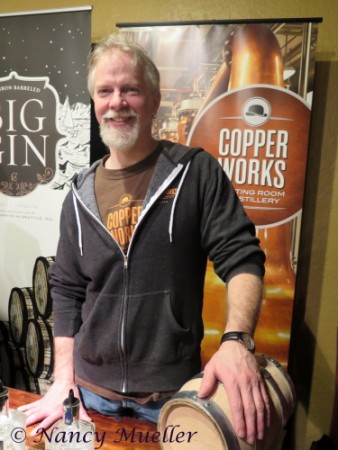 Moving on to a second award-winner,  Copperworks Gin received the Gold Medal among gins in the 2014 World Beverage Competition in Geneva, Switzerland. Raised in Kentucky, owner/distiller Jason Parker had a head start on the distilling trade. Add a love of beer to his background in chemistry and microbiology, and you can see why he knows a thing or two about making spirits. As he explains about his prized Copperworks Gin: "We made it strong enough to hold its own in a classic cocktail." After one sip, I can't wait to confirm that its heady coniferous tone will do just that.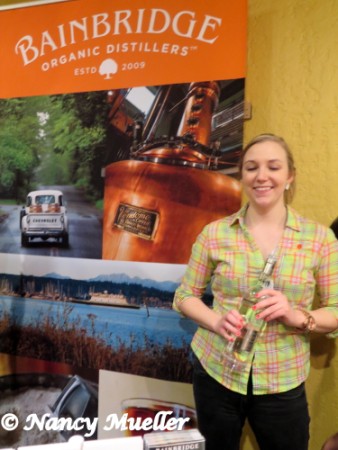 What a fun way to spend a rainy afternoon, talking with passionate owners of small-batch distilleries, hearing the stories behind their companies, learning about their processes for making unique spirits and discovering new flavors. I came away with a greater appreciation of Washington's creative craft distilleries with plans to add their tasting tours to the Best of Boomer Women Bonding trips.
Thanks to David LeClaire of Seattle Uncorked for sponsoring my continuing education in the world of spirits.
Wander on!
Nancy
What about you, wanderboomers? Have you taken a distillery tasting tour? Any to recommend to us here?