7 days – and counting – to Seattle Seahawks Super Bowl Sunday! Woo hoo! As always, the Seahawks' 12th Man stands ready to help catapult the team to victory over the Denver Broncos in the NFL Super Bowl XLVIII.
So what exactly is the 12th man – and how can you join the club? Here's what you need to know . . .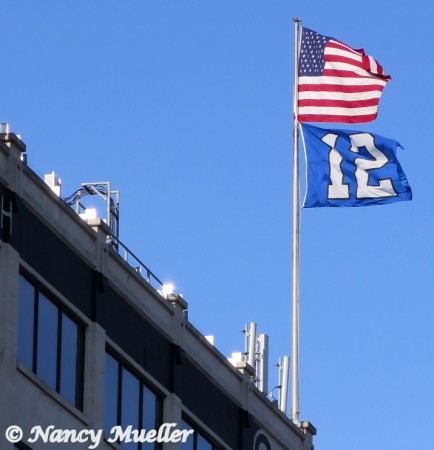 The 12th man is the collective fan base of the Seattle Seahawks. Historically, the fans showed such fierce loyalty and support for the team that former Seahawks President Mike McCormick retired the number 12 jersey in the fans' honor in 1984. Since then, the 12th Man has grown in stature among the team players and press who acknowledge the unrivaled impact the fans have had on the team's success.
Since 2003 the 12th Man has also had the honor of hoisting the flag before the start of the game. One of the most fervent fans, Seattle-native hip-hop artist – and now 4-time Grammy winner – Macklemore is one such celebrated past flag raiser.
You, too, can become a member of the 12th Man club! All you need to do is be "loud and proud" in showing your support. And I do mean LOUD. On December 2, 2013 Seahawks' fans set a Guinness Book World Record in the game between the Hawks and the New Orleans Saints at Century Link Field, registering a decibel reading of 137.6. By now you know who won that game.
Naturally, to be a 12th Man, you need to show your true colors, dark blue and neon green. With several retailers lined up along Occidental Avenue near Century Link Field alone, you have plenty of options for selecting just the right jersey, shirt, cap or other Seahawks' apparel and accessories.
When: Sunday February 2, 2014
Where: MetLife Stadium, East Rutherford, NJ
Kickoff: 6:30PM ET
GO HAWKS!
Wander on!
Nancy
What about you, wanderboomers? Where will you be on Super Bowl Sunday?