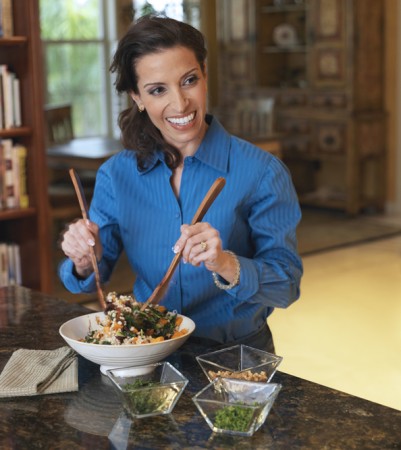 * Photo by Bill Bettencourt
A culinary conversation with cookbook author Tina Ruggiero brings her audience back to basics: cooking and eating as two timeless traditions best shared and cherished with family and friends.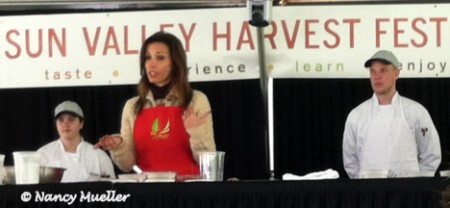 At Idaho's Sun Valley Harvest Festival last month, I had the chance to sit down and chat with Tina following her popular cooking demo.
In both her demo and in our conversation, Tina emphasized that you don't need to be a professional chef to prepare nutritious, flavorful meals. Instead, she spoke encouragingly to novice and seasoned cooks alike:
"You need to improvise. You need to make mistakes. You need to experiment. That's how you become a a great cook."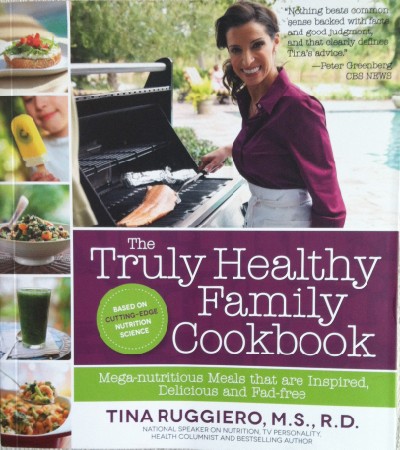 With a masters degree in biochemistry, Tina Ruggiero planned to become a dentist. Ultimately she switched gears, applying her math and science background to a passion for healthy cooking and eating instead.
Her latest creation, The Truly Healthy Family Cookbook, reflects Tina's quest to educate readers in the science of food. Why? So that you can understand and evaluate what you read to ensure a nutritious diet.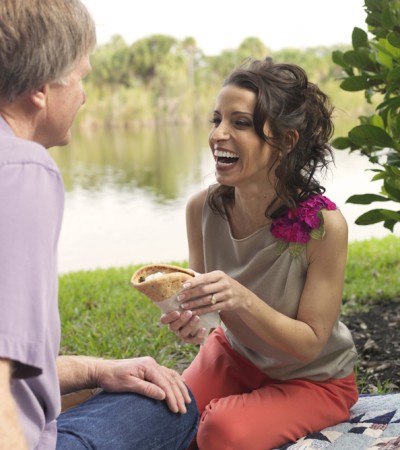 * Photo by Bill Bettencourt
What I enjoy most about her cookbook – besides the delicious recipes and appealing photography – is Tina's fun, practical approach to cooking. The recipes showcase real, simple, everyday food that anyone can cook with minimal planning and preparation. Reading through her cookbook inspires me to play in the kitchen – and that's a good thing.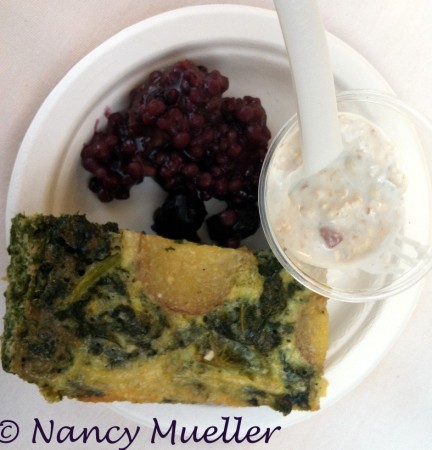 Orange Infused Whole Wheat Breakfast Couscous with Cherries – Tina Ruggiero, The Gourmet Nutritionist
Ingredients
1  1/2 cups water
1 (10-ounce) bag frozen pitted dark sweet cherries, thawed
Zest and juice of one medium orange
1 Tbsp. maple syrup
1 cup whole wheat couscous
Dark chocolate (optional)
Method
In a medium heavy-duty pot, add water, cherries, orange juice, orange zest and maple syrup. Bring to a boil over high heat, stir in couscous and remove from heat. Cover, and let sit for 10 minutes. Fluff couscous with a fork and serve with extra maple syrup. Garnish with dark chocolate, if desired.
Tina's Tip: You can make this the night before and store it in the refrigerator. Come breakfast time, warm up the couscous in the microwave, portion into serving bowls and top with maple syrup.
Calories: 220
Protein: 8 g
Total Fat: 1 g
Carbohydrates: 49 g
Sodium: 15 mg
Fiber: 7 g
Yield: 4 cups Time: 20 minutes
Thanks to host Idaho Tourism for the opportunity to watch Tina in action at the Sun Valley Harvest Festival.  Thanks, too, for a review copy of Truly Healthy Family Cookbook.
Wander on!
Nancy
What's your best tip for preparing healthy, nutritious meals, wanderboomers?