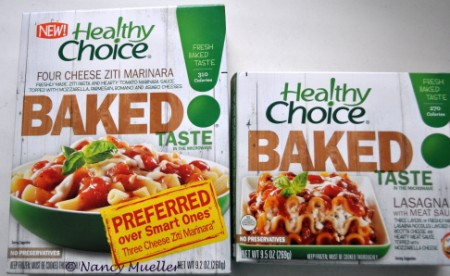 Is Healthy Choice a traveler's choice? That's what I wanted to find out in my three week paid participation in the Vibrant Influencer Network Healthy Choice campaign. So far I've reviewed the Healthy Choice Greek Frozen Yogurt and the Healthy Choice Café Steamers.
In my final week, I sampled two of the brand's Baked Taste: the Four Cheese Ziti Marinara and the Lasagna with Meat Sauce. Let's start with the lasagna . . .
I love most any kind of pasta, though lasagna has to be near my top choice. As proof, the first meal I cooked in my first apartment was lasagna. The fact that I made enough to feed myself and most of my neighbors was irrelevant. However, instead of sharing any of it with my neighbors, I had it for dinner every night for a week. By the time Saturday rolled around, I vowed not to make it again for a long, long time, if ever. Eventually, I gradually added it back into my cooking repertoire. Learning how to make a healthy variation (i.e. with minimal fat or calories) became a challenge.
The Healthy Choice Baked Taste Lasagna with Meat Sauce takes the guesswork out of the process. Ingredients include cottage cheese (with cultured skim milk), part-skim mozzarella cheese, non-fat dry milk, and Parmesan and Romano cheese (part-skim milk). That's not to say that there aren't other ingredients deserving your attention, for example, sugar (less than 2%). But I liked the taste and found the meal substantial at 270 calories. I would have like a little less tomato sauce, but then I prefer less sauce on my food in general than many other people.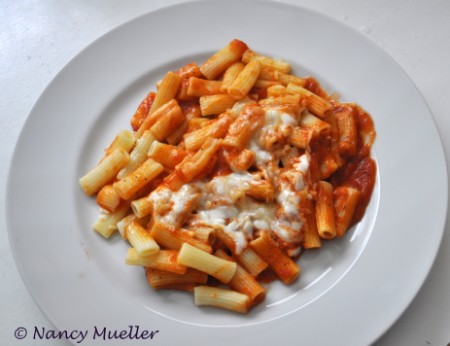 The second product I tasted for the VN Healthy Choice Campaign was the Baked Taste Four Cheese Ziti Marinara. I hadn't expected to like it as much as I did the lasagna, simply because of my pasta loyalty to lasagna. However, I was pleasantly surprised to discover that I did. The meal was perfectly prepared and again substantial, though with a few more calories this time – 310 compared to the lasagna's 270.
As a traveler, if I were looking to stock my hotel refrigerator, I would definitely consider adding these products to the mix. But I wouldn't have this product – or any individual meal – every night of the week. That lesson I learned that first week in my first apartment.
What's your healthy food choice when traveling, wanderboomers?