We wanderboomers know the challenges of staying fit and healthy on the road. Our normal workout routines are disrupted, hotel gym facilities leave us uninspired, while criss-crossing time zones adds jet lag and eating on the fly.
But instead of giving up, what if we wanderboomers leveraged the travel skills we already have to maintain our health and fitness wherever we go? The trick is to make it easy and convenient to set ourselves up for success. Here's how:
Travel Skill #1 – Trip Planning
Travelers love to plan for their next adventures, i.e. deciding what attractions to see, what activities to do, places to eat, where to shop.
How to Leverage:
Plan ahead to stay fit on the road by adding these everyday essentials to your packing list:
Healthy snacks – Save money, time and your health by packing small baggies of dried fruits, nuts and veggies.
Tennis shoes – Yes, they're a hassle to wear when going through security, but if you prefer to travel with only carry-on bags whenever possible like I do, you'll be happy to have more space and less weight in your luggage by wearing your heaviest shoes. An extra advantage is that tennis shoes are usually your most comfortable shoes so you can zoom through the airport when you're hurrying to catch your next flight.
Swimming suit – Swimming is one of the best overall forms of exercise that's also easy on the joints.
Resistance bands – For exercise equipment that's both light and portable, bring along a resistant band for both upper and lower body strengthening and stretching.
Fitness DVD – Since most hotel rooms have DVD players, why not bring along your favorite workout program? If you can find one that hits the big three, i.e. strength, flexibility and cardio fitness training, even better.
Travel Skill #2 – Adaptability/Flexibility
Pablo Picasso supposedly said: "When I run out of red, I use blue" in describing his painting process. Others have brandished the quote as an admonition: "When you run out of red, use blue!" The point remains that seasoned travelers know how to minimize the stress of dealing with the unexpected by staying flexible and resourceful.
How to Leverage: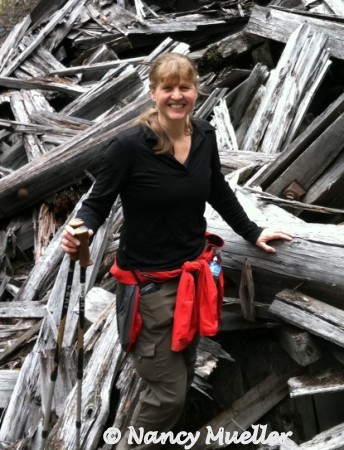 Cathy Grierson is Head Guide and Fitness Director at Mountain Trek, a boutique health retreat in British Columbia where I was fortunate to spend a week last Spring. While the outdoors is her natural habitat, she looks for fitness opportunities indoors and out. A dropped towel in her kitchen gives her a reason to drop to the floor and do ten push-ups. Extreme fitness? Maybe. Or maybe it's smart fitness to find easy ways to make health part of your daily routine.
Look for simple ways to improvise your own exercise routine when traveling. Take the stairs instead of the escalator or elevator. Use furniture to replace standard gym equipment. Pull up on a sturdy tree branch. Do a few jumping jacks while waiting at a bus stop. Practice tai chi in a local park.
Travel Skill #3 – Curiosity
The best travelers are naturally curious about other people's lifestyles, customs and favorite foods.
How to leverage:
Go out and play! Explore your new city or neighborhood on foot. Take a brisk walk or go for a short run to get the juices flowing and discover your travel destination from a local's perspective. Most importantly, keep on moving . . .
What about you, Wanderboomers? How do you stay fit on the road? Please share your tips and strategies with us here.