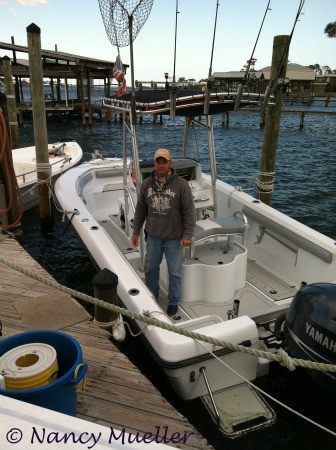 "Fishin' and wishin' and hopin' and prayin'" is my mantra on a cool November afternoon in Orange Beach, Alabama.
Our group of four began our day's adventure at  Zeke's Landing, a six-acre marina located on Cotton Bayou, less than 10 minutes by boat from the Gulf of Mexico. Now we're aboard the Navigator with Captain Mike Weaver of Inshore Charters, and he promises the fish are jumpin' today. Ah – music to my ears because I'm on my first-ever fishing expedition on my first-ever visit to the Gulf Shores and can't wait to reel one in.
Captain Mike assures me I'll do just fine as long as I follow his lead.  He hands me a spinning reel and offers these instructions: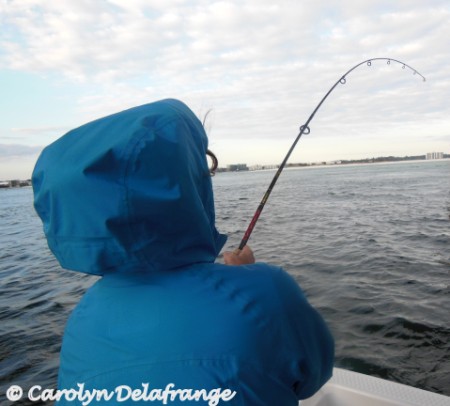 "Hold the rod with your casting hand around the point where the reel attaches to the rod, with your other hand behind that at the butt of the rod. Grab the the line with the pointer finger of the casting hand and flip over the wire bail (the thin wire on the reel) that is holding the line.  At this point make a smooth casting motion and point the rod and the finger (while releasing the line, do not let go of the rod with anything except your pointer finger) that is holding the line in the direction you are casting to. Turn the reel handle a few times to tighten the line and wait on the bite. "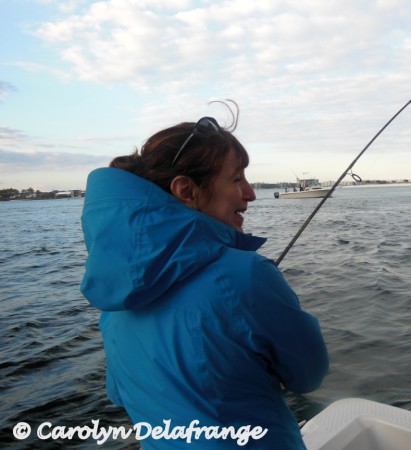 Seems simple enough. I take my place, practice a couple of times to get the hang of it, cast and wait not-so-patiently for my fish to come in. I wait and watch as Kyle,  a fellow passenger, lands one after another for a whopping total of four – two bluefish and two sheepsheads. Marc soon follows with his bluefish catch of the day. Carolyn, too, gets one into the net. That leaves only me without a fish and time is running out. My fellow fishermen and woman offer support.  "Don't worry. You can always hold up one of our fish for your photo op. " But I won't hear of it. I don't want the pity fish. I need to land my own.
Mike gently points out on two occasions that my bait is gone, which means the fish got what they wanted and went on their merry way. Maybe that's why they were jumping – jumping for joy. "Yippee! Free bait and we're still free." Very subtle and sneaky, those bluefish and sheepsheads. But I'm determined. I'm not leaving without my dinner.
Moments later I feel a tug. I tug back. The game is on. My fishing pole arcs and I try to remember Captain Mike's instructions: "When bringing in a fish always pull up and back with the rod and reel as you go back down towards the fish." I lift, lean forward, and reel, lift, lean forward and reel until . . . "There it is! C'mon, baby. Come to Mama."  A tough little fella but Mike stands by with a net to help.  Got it!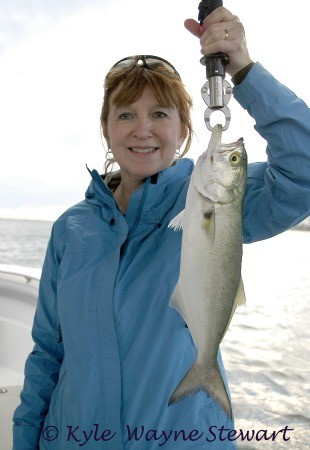 My very own bluefish and the highlight of my day. Thanks, Captain Mike, for a fun afternoon!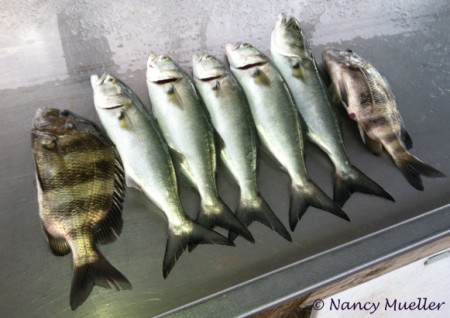 What's your favorite fishing story, Wanderboomers? Please share with us here.