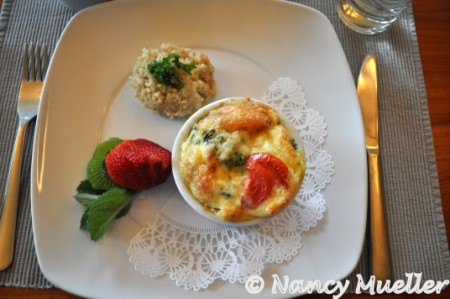 In a previous post on my hiking adventure at Mountain Trek, I posted this photo as one example of the yummy spa cuisine I enjoyed during the weeklong retreat. Now it's time to share the recipe for WanderFood Wednesday . . .
Roasted Red Pepper Frittata (serves 4)
4 large eggs
4 egg whites
1 c. roasted red peppers
1 clove garlic
2 Tbs. sour cream
1/2 c. swiss cheese – grated
1 tsp. prepared mustard
1/2 c. sundried tomatoes – chopped
2 Tbs. fresh basil
Roast and peel peppers and set aside. May use purchased roasted peppers.
Lightly oil individual oven proof dishes. Chop peppers and distribute evenly into dishes.
Whip egg whites until stiff. Whisk whole eggs, mustard, basil, garlic, 1/2 of cheese and sour cream together and fold in stiffly beaten egg whites.
Pour egg mixture into baking dishes, sprinkle with 1/2 of cheese. Top with sundried tomato.
Place on a tray; bake at 350 degrees for 35 minutes.
Garnish with chopped parsley before serving.
Do you have a favorite breakfast recipe to share with us from your travels, Wanderboomers?