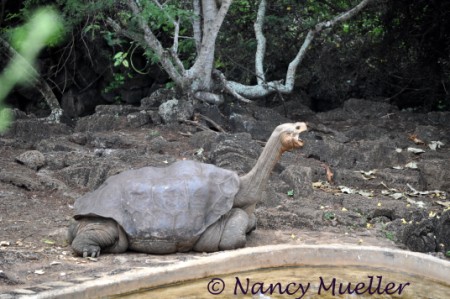 I'm feeling a little blue, a little out of sorts today. All because of a 200-pound tortoise, estimated to be between 80 – 100 years old, who passed away in the Galapágos Islands on Sunday.
At first glance, you might wonder at the world's affection for such a slow-moving, plant-chomping, independent-minded creature. But Lonesome George was the last of his kind, a member of the Chelonoidis nigra abingdoni subspecies. Sadly, much of the tortoise population dwindled in the 19th century as they became easy prey for whalers, sailors and fisherman who prized their fresh meat.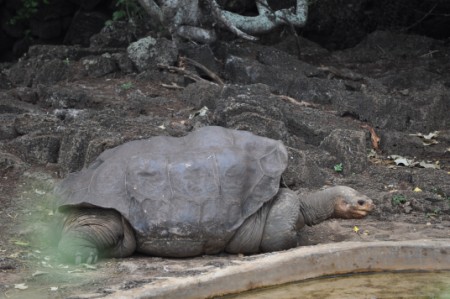 I had the good fortune to "meet" George on my trip to the Galapágos last summer.  In a previous post, I wrote that he had been living in his enclosure on Santa Cruz Island since the 1970's, after being discovered alone on Pinta Island. Over the years, park officials had introduced potential female mates in the hopes that George would be able to procreate, saving his subspecies from extinction. But it was not to be.
Never mind, Lonesome George. We loved you all the same. While you don't leave a biological legacy, your passing does serve as a poignant reminder of other endangered animals on our planet, such as the Sumatran Tiger, Giant Pandas and Polar Bears. Will we also witness their demise in our lifetime?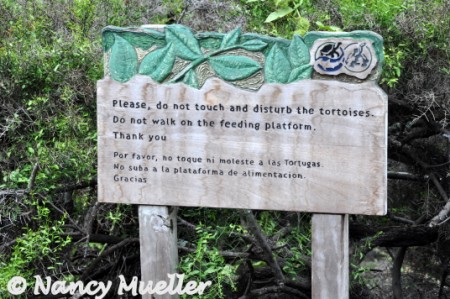 What are your memories of Lonesome George, Wanderboomers? Share with us here.