At least I think there's where my wanderlust all began . . .
More years ago than I care to remember, I was standing among my childhood friends a week before Halloween. Mrs. Banner, our elderly neighbor, had asked us to come over because she had a surprise for us. As she led us up the creaking stairs into her attic, we were wide-eyed with curiosity. What would we discover?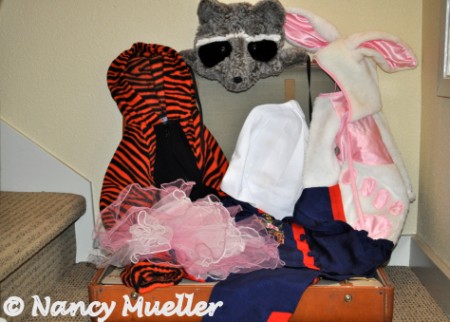 Across the room in the farthest corner stood a dusty, dilapadated suitcase. Mrs. Banner picked it up, placed it on a chair, and said, "Go ahead. Open it."  I don't remember who of us unlatched the fastening, but I do recall an overpowering smell of moth balls as we all joined in to open the suitcase.
At first we were puzzled. "What's this?" we asked her. "Why, that's a pith helmet, of course!" When we still looked confused, she elaborated. "Big game hunters wear pith helmets when they go on safaris in Africa, looking for animals like elephants and jaguars." "And what about this?" we asked as we continued pulling out more clothing pieces. "Well, this is part of a kimono that women wear in Japan. And this one I'm sure you know. It's a witch hat. But not just any witch hat. Oh, no. This one will take you on a broom around the world in one night – but only on Halloween, of course."
Was that the moment my wanderlust took flight? I wonder. All I know is that Mrs. Banner had given us a priceless gift – the gift of imagination and its power to lead us beyond the border of our tiny town into a world of daring adventure. The pith helmet may be long gone, but my lust for travel goes on.
What about you Wanderboomers? Can you remember when your wanderlust began? Share your story with us here.
Have a Happy Halloween! Boo!