Every day spent in the Galapagos Islands is a nature lover's delight. But for anyone passionate about birdwatching, Genovesa (Tower) Island in the Galapagos is a must-see destination. And if you weren't passionate about seabirds before your visit, you will be by the time you leave.
On Day 5 of our small-ship cruise, we're visiting this serene, pristine northern island for our only chance to see red-footed boobies. If we're lucky, we might even catch a glimpse of a short-eared owl.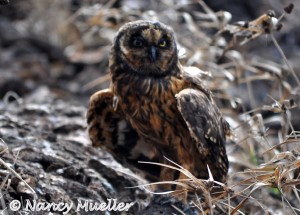 Oh – and did I mention nazca boobies
, red-billed tropical birds, great frigate birds, storm petrels, lava herons, large cactus finches, Galapagos doves, mockingbirds and swallow-tailed gulls?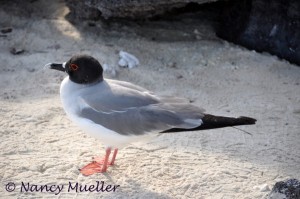 For a birder, I don't know what would be worse: never seeing this home to a million seabirds – or visiting and then having to leave.
Crescent-shaped Tower Island is an enormous caldera, a large crater formed by a volcanic collapse. For this reason, the island is relatively flat, rising a scant 250 feet (just over 76 meters) above the water surface. Wave erosion has worn away one wall of the sunken volcano, creating an inlet known as Darwin's Bay, one of two accessible visitor sites.
An 8AM panga ride treats us to our first view of the numerous bird colonies along the jagged cliffs before our "dry" landing at Prince Philips Steps. Located on the eastern side of the island, the steps are so-named because of the Prince's visit here in the early '60's. The steps up the rockface are challenging, but doable for all in our group thanks to handrails, fellow passengers and our naturalist guides,  Whew! After a steep climb up the steps, we arrive on a plateau for a walking tour of the the bird nesting areas.
From here we take in the panoramic views and learn about one of the primary bird nesting areas, the aromatic "palo santo" ( "holy stick") forest.
The resin oils and wood from the trees are used to produce incense and oils used for healing practices. Hence, the name "holy stick." Cactus abounds here, including prickly pear cactus
and lava cactus that grow atop the lava fields despite the barren landscape.
After a turn at kayaking in the choppy waters following lunch, I decide my skills are better suited for calmer waters – a sentiment surely echoed by my Australian paddle buddy. To his credit, he never once pointed out who was doing most of the paddling . . .