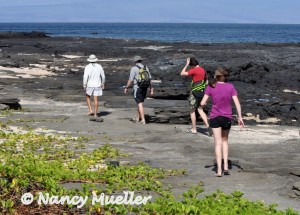 No two days are the same in the Galapagos, as we experience so much diversity in vegetation, wildlife and landscape among the islands from one day to the next. This morning is no different as we visit Darwin's favorite one, Santiago (James).
After our "wet landing" at Puerto Egas, we step barefoot onto the black beach sand. 50% of our relatively easy 1.5 mile walk ahead is on compacted ash.
Here's what caught my eye along the way:
How can you not feel a special fondness for a lovely little crab named Sally lightfoot?
Or this sea turtle doing what sea turtles do best?
When snorkeling among sea turtles later in the morning, our naturalist guide, Alex Cox, advises us to "stay still like floating wood" because these creatures don't like waving arms or sudden movements. Instead, Alex suggests we put our arms behind our backs or hold them out in front of us to minimize our presence.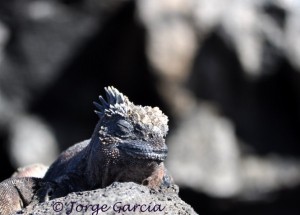 Ah – talk about the good life! Nothing like soaking up a few sun rays for this obviously content marine iguana.
After returning to our ship, the MV Evolution, for a fortifying lunch and a splash in the hot tub, we await our first peek of Pinnacle Rock on Bartolome, a small volcanic island off the eastern edge of Santiago.
From here our group divides in two, for those who want to hike up the 371 steps to the island summit for a glorious volcanic view with Pinnacle Rock, and those who'd rather take a panga ride along the shoreline for a view of penguins, sea lions and more Sally lightfoot crabs. It's a toss-up, but I opt for the panga ride.
I might have missed out on the summit view, but here's what I saw instead:
The Galapagos Penguin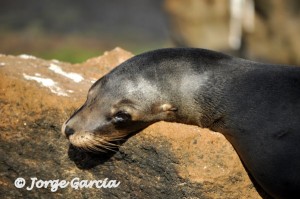 You-know-who
And just because he was so unbelivably cute, I asked Jorge if he'd snap a few more photos.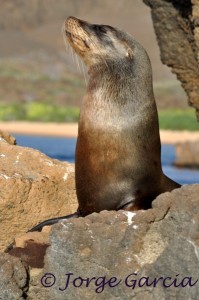 How handsome am I?
Lookin' Good
Let's face it: Hiking or going on a panga ride, it's hard to go wrong in the Galapagos Islands.
Ho, hum . . .
What would you most want to see and do in the Galapagos Islands, Wanderboomers?