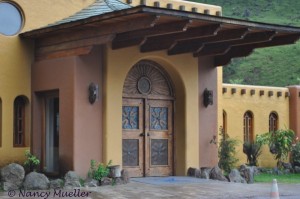 Blame it on the chocolate body wrap. Or the high Andean altitude. Or both. In any case, I find myself slowly, reluctantly, making my way back to normal after my two-week odyssey in Ecuador. Ahh . . .
My host had warned me: he said that his wife wanted to move to Termas Papallacta and his son wanted to build a house there. He had me at "You will LOVE it there." Oh, yeah.
But of course I needed to experience the health spa and resort for myself.
I arrived on the heels of my small-ship cruise of the Galapagos Islands aboard the M/V Evolution with Quasar Expeditions. My driver, Manolo, was waiting for me at the Quito airport and soon we were off to Papallacta.
We encountered an ever-darkening sky as the city crowds slipped away and we wound our way up the narrow mountain pass. One final climb and we were there – but first, we had to snake our way through a pothole paradise, one last challenge, as if the Andes Mountains were testing our resolve to see if we were worthy of the delight awaiting us inside the sacred retreat.
Upon arrival, I was warmly welcomed and shown to my room, one of several which encircled a series of thermal hot springs pools at our doorsteps.
Note to self: I could get used to this.