Whether you're planning a weekend getaway, a two-week vacation or prolonged travels, it pays to plan for potential health issues on the road. Let's face it: by the time we reach WanderBoomer status, most of us have had at least a few personal health issues. No sense in exacerbating our medical concerns while traveling. Here are my top 5 tips for healthy travels:
Before You Leave
1) See Your Doctor.
Make an appointment 1 – 2 months before your trip. This includes your dentist and ophthamologist, as necessary. If you have access to a travel clinic with doctors who specialize in travel medicine, even better. This is especially true when your plans include trips off the beaten path where the risk of exposure to unfamiliar diseases is likely and medical facilities are limited. Even if you're relatively healthy, a visit to your doctor can help in 3 significant ways:
Immunizations for Infectious Diseases – Do your own research before your doctor visit. Then confirm with your physician which vaccines are needed or recommended, based on your travel itinerary.
Prescriptions for Other Conditions – Will you be on a cruise? Are you prone to seasickness? Do your plans include stays in high altitudes over 8,000 feet? If your answer is "Yes" to any of these questions, then you might benefit from medicine to alleviate their impact.
Consultation – As a trusted advisor, your physician can provide counsel to keep you safe, healthy and happy in your travels in the air and on the ground. Bring your list of questions and concerns with you to your appointment. For example, you can ask for advice on allergies and jet lag, tips for traveling with your children, or about side effects and interactions among the different medicines you plan to take.
2) Pack a first aid and medicine kit.
The contents of your kit will vary somewhat depending on your travel destination. Your goal is to travel light so you want to cover your basic health needs while eliminating  any unnecessary weight. At the least you will want your kit to contain the following:
Band-aids & sterile gauge pads
Tape (No, not duct tape, the other kind – though now that I think about it . . . )
Small scissors
Moleskin – In my case, I would have found it helpful to have this come with a Warning on the package, after once trying to remove it from my big toe the same way I learned to remove a band-aid: fast, in one swift movement. Yeow! I ended up taking off the top layer of skin along with the moleskin. My only excuse is that it was 4:30AM and I was hurrying to catch a flight. Don't try that at home or on the road.
Pain reliever
Antacid
Antihistamine
Sunblock
Hand sanitizer
Insect repellent
Iodine tablets for water purification
Antibiotic ointment
Antiseptic towelette
Antisceptic
Tweezers for removing splinters
First-aid booklet
In addition to these basics, be sure to bring along your prescriptions (ideally, in their labelled container), your travel health card that lists your immunizations and medical history, and medical contact information, including your doctor's information, insurance details and emergency contact.
Don't forget to include your prescriptions for glasses and/or contact lenses because by our age, we Boomers know a thing or two about what it's like when we lose ours.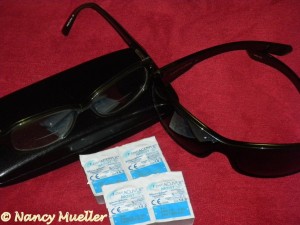 3) Purchase Travel Insurance. Things happen: volcanoes erupt, tsunamis cause casualties and injuries, travel companies go bankrupt and flights get cancelled. Also, in some cases, Medical Evacuation Insurance is a must, as when travelling in remote areas. Chances are you won't ever need it, but insurance provides peace of mind.
During Your Travels
4) Wash your hands. Make this a standard practice as the #1 Best Health Practice to avoid the spread of germs. Use hand sanitizer when water isn't readily available.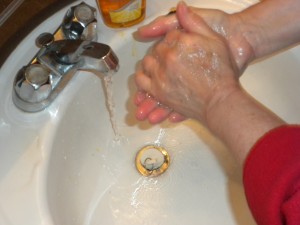 5) Be Mindful of Food and Water Safety. If you want to err on the side of caution, stick to bottled water and avoid food vendors and eating lettuce. But Travel Channel host and former chef Anthony Bourdain would tell you that you're missing the best part of foreign travel if you do. It's a judgement call, but if it were me, and I didn't want to risk getting sick, I would follow those precautions.
Healthy Travels!
What are your Top Tips for Healthy Travels, Wander Boomers? Please leave a comment here and let me know.