At this stage of our lives, we Boomers are ready to pare down our possessions and get rid of the clutter taking up space in our basements and garages, aren't we? We're ready to be footloose and fancy free and don't want to be weighed down by stuff we don't need.
But does this mean we have to give up shopping for souvenirs in our travels? Of course not! In my travels, I look for small treasures to bring back home that evoke the local culture or that will remind me of my wandering experience. While the souvenirs have little monetary value, they are the touchstones of my travel memories.
Take the rectangular mother of pearl jewelry box that I found at Khan el-Kalili, Cairo's beautiful, colossal bazaar, for instance. Whenever I open the lid, I see the prayer beads I keep inside. Though their sandalwood scent has long since faded, if I close my eyes, I can still hear the Moslem call of the faithful, as I heard it during my stay 5 times a day.
Then there's my keepsake Egyptian papyrus of the three musicians, a replica of the scene found in the tomb of Nakht in Thebes. The female musicians traditionally entertained guests at banquets, reminding me of the exceptionally warm hospitality I, too, experienced as a guest in Egypt.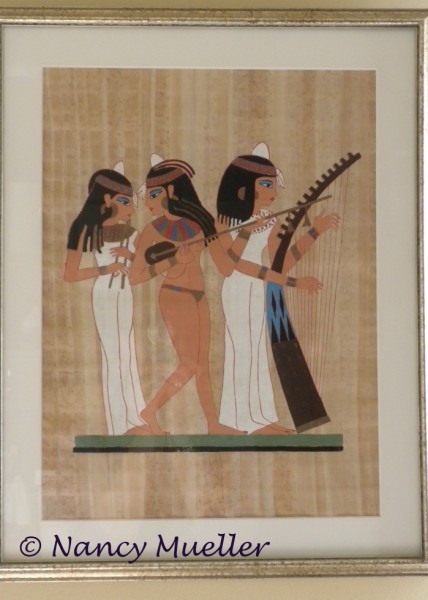 From my travels in Brazil, I have the music of the much-loved duo, Toquinho and Vinicius, as well as these iridescent butterflies whose vivid colors were unlike anything I had seen elsewhere.
What about you? What mementos have you brought home from your travels that have special meaning for you?