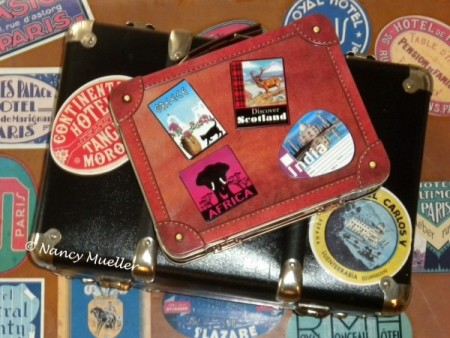 I'm often asked what I do to stay safe while traveling, either with family or on solo trips. Here are my top 5 travel safety tips to maximize safety, comfort and fun on the road whether you're an experienced world traveler, or just beginning your journeys:
1)   Avoid being conspicuous.
It's easy to stand out as a tourist while traveling, but there are a few things you can do to be less obvious:
Carry little cash and keep your money, maps and latest tech toys out of sight. I once made the mistake of taking out my money in clear view of my cab driver on the way to my hotel. Once he saw how much I had with me, he charged me an exorbitant rate that the local hotel clerk called – you guessed it – highway robbery. So that's where that term comes from . . .
Avoid making inflammatory remarks (e.g. politics, religion) and don't take the bait if others goad you into taking a political stand. It's one thing to enjoy a spirited discussion for the purpose of greater cultural understanding; it's quite another to feel under siege and have to defend the actions of your government in other countries.
Dress appropriately. This includes clothing and accessories. On one of my flights abroad, a kind gentleman advised me to remove my large hoop earrings or else run the risk of having them ripped out of my ears while out and about in the local community. Ouch!
2)   Pay attention to your surroundings.
This is what's known as "street smarts." If you grew up in an urban environment, like New York City or Los Angeles, no doubt this was part of your upbringing. But if you're from a small town like me, learning to look around your surroundings discretely is an acquired skill that's essential to develop.
People – In his book, The Gift of Fear, Gavin de Becker stresses the importance of listening to your intuition when assessing a situation. Listening to and acting on your intuition is a valuable travel skill.
Places – Get your bearings quickly. Know where you are and learn where the exits and escape routes are located. If you're in a tsunami zone, for example, find out where the evacuation routes are and decide on a plan of action ahead of time should a natural disaster strike.
Things – By now most of us are accustomed to looking out for unattended bags at airports and on public transportation. Don't forget other public settings like museums and markets as well.
3)   Read, listen and follow the safety guidelines & procedures provided.
The safety guidelines are in put in place for travelers' protection. Look for printed copies here:
hotel room
airline flights
cruise ships
Log onto the U.S. State Department website for current info.
4)   Stay in touch.
Let people know where you will be traveling and your expected arrival times. You might want to get off the beaten path to delve more deeply into the local culture. I hope you do! Just be sure to give your contacts a general sense of where you're heading in case they need to reach you.
Check in from time to time at whatever intervals you decide upon with your contacts before you take off.
Keep your cell phones charged at all times. Need I say more?
5)   Travel light.
Leave your cultural baggage at home. One of the great joys of traveling is making new discoveries. By leaving your cultural baggage at home, you open yourself up to learning about new customs, cuisines, and communication styles which makes for a much more interesting journey.
Pack only what you can carry whenever possible. Do you really want to be lugging around more than one bag if you don't have to? Trust me on this. You don't.
Stay fit and healthy and be ready to move quickly in unexpected or threatening situations. Whatever you can do to stay fit while traveling, including exercising, will pay off in your ability to participate in as many of the local activities as you desire.
What are your favorite travel safety tips? Drop me a line and let me know.