I don't know why, but I have always been fascinated by cultural differences in celebrating Christmas. I think it's because when it comes down to it we are all celebrating the same thing on Christmas, but these little differences make us unique and keep the world interesting. One of the French traditions around Christmas time is to make a Bûche de Noël. These cakes are often decorated beautifully and intricately to look like a wooden log, which is why it is sometimes referred to as a Yule log cake. I remember learning about this tradition in high school french class. We would have contests and vote on whose log cake was the prettiest, tastiest, and most creative. I had never entered the contest when I was in high school, so I decided to give it a go.
The Bûche de Noël has a long and rich history. No one knows exactly when the first cake was made, but the idea dates back to the 12th century with the Celtic tradition of burning Yule logs on the winter solstice. This was done to celebrate the days becoming longer and to rid the year of any negative energy. The ashes from the log were collected and used throughout the year. They were believed to provide protection and to ward off evil spirits. This tradition carried on throughout the years and was eventually replaced by smaller logs that were placed in the middle of the table. These logs were decorated with holly, berries, and leaves. This was the start of what is now known as the Yule log cake.
Some other French Christmas traditions are:
-Santa Clause (or Père Noël) will bring toys on Christmas Eve rather than Christmas morning.
-French children do not hang stockings, but leave shoes and slippers by the fireplace. If they are good, Père Noël will fill them with goodies.
-Père Noël does not bring coal to badly behaved children. Instead, Le Père Fouettard follows Père Noël on his trip and brings the whip to bad children. Scary, right?!
-Le Réveillon is a long and sacred meal that happens on Christmas Eve. The meal can last up to six hours long and is filled with French delicacies, wines, and cheese.
I used this Betty Crocker recipe for the sponge cake. The only difference is that I substituted cane sugar for granulated sugar, but feel free to use whatever you have on hand. I also made an almond filling, which I thought turned out quite delicious. I used maple syrup instead of sugar and almond extract instead of the coffee granules. This is my take of a Bûche de Noël cake and I thought it turned out pretty dang good for my first try. There are plenty of recipes to try out so experiment and see what works best.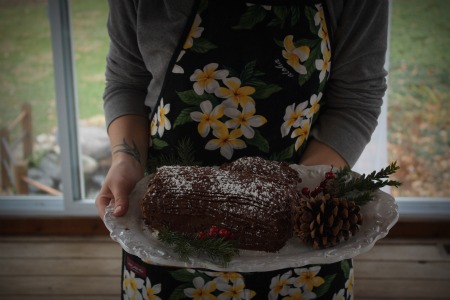 Let me know in the comments if you decide to make a Bûche de Noël. Good luck!
–