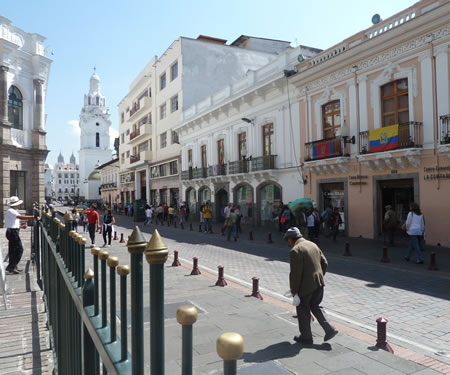 I think I'm in love!
I recently traveled to Ecuador as part of my job with non-profit travel org Crooked Trails. Since this was a work trip, and it was arranged in a fairly short time frame, I didn't have many expectations set in my mind. I gotta say, I was very pleasantly surprised! I fell fast and hard for this beautiful Latin American nation. Here's the top reasons I quickly became enamored with Ecuador (in no particular order).
1) Wonderful biodiveristy and natural beauty
For being a rather compact country, Ecuador packs in a big array of micro-climates. In a broad sense, you've got the coast and Galapagos Islands in the west, a band of Andean highlands running down Ecuador's center, and the vast expanse of Amazon jungle in the east. But you can drill-down in any of these regions to discover little pockets of diversity as you move through altitudes; the dusty flanks of towering Andean peaks cradle green valleys and give way to the amazing cloud forest and paramo (high-altitude grasslands) as you descend. The large number of habitats allows Ecuador, roughly the size of Nevada, to be home to an amazing  number of species – one of the highest concentrations in the world! It's a hot spot for bird nerds with nearly 1600 avian species, including about 120 species of hummingbirds. And 25,000 species of plants, 460 types of amphibians and over 300 different mammals makes this a nature-lover's paradise.
2) Great accessibility and infrastructure
Since Ecuador is so compact, travelers can easily reach any region in one day, and overland trips from high Andes to the Amazon basin are not impossible. Quito's centralized location makes it a great striking point; there's several options for day trips or short overnights within a close radius of Quito in almost every direction. I also noted that,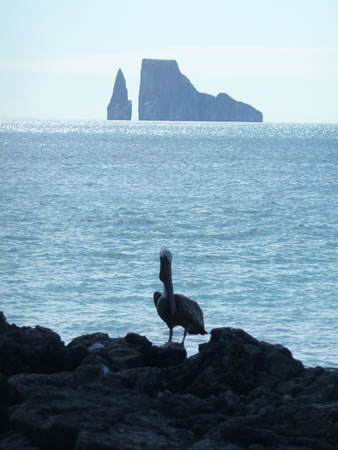 overall, the transportation system seemed to be highly functional and on-time, saving travelers a lot of the headaches that can come with a developing infrastructure. It's apparent there has been some money put into this in recent years, as evidenced by the brand-new Quito airport.
3) The mutha-lovin' Galapagos
Oh mamma! The Galapagos Islands are just as amazing as everyone says they are. They warrant their own post (coming soon), and are reason enough to make a beeline to the equator. GO.
4) Genuine people who have put out the welcome mat
I found the people I met in Ecuador to be extremely kind, courteous, and genuine, if a bit reserved. At the famous (and touristy) Otavalo Market, I was delighted to find the vendors to be quite pleasant and happy to chat, but with no pressure to buy. I felt a true sense of welcome and many people I spoke with were quite happy to have tourists in their country. They were very proud of their wonderful country and eager to hear my impressions of it. The Ministry of Tourism is actively showcasing their country to the world market with the apt slogan, "Ecuador ama la vida" ~ "Ecuador loves life"!
5) Fresh fruit and other delights
The amazing array of fresh produce in Ecuador is enough to satisfy even a fruitarian. I loved finding fruit juice everywhere, freshly made and with no sugar added. Again, Ecuador's small size means that it's easy to have
super-fresh seafood outside of the coast too. Traveling in other Andean nations, it can be hard to subsist on potatoes and quinoa all the time, but in Ecuador, I found it much easier to satisfy my green tooth no matter where I was. And a surprising national culinary scene provided some truly good eatin' all around.
6) Quito's historic old town
WOW. Quito's Centro Historico is a true world treasure. It covers nearly 4 square km and holds within it a dazzling array of extremely well-preserved, grandiose traditional colonial buildings and cathedrals. It was declared the first UNESCO World Cultural Heritage Site in 1978 and is known as the best-preserved historical core in Latin America. And it is gorgeous. I spent countless hours wandering the district, captivated by its busy markets, baroque churches and colorful facades. The subdued night-time excitement of La Ronda, a cobbled pedestrian-only street where young and old alike window shop, sip canelazo and enjoy live music wafting on the air, is the magical cherry on top.
7) All-around diversity
Change seemed to be the only constant as I navigated my days in Ecuador. The weather would often shift through several different moods over the course of one afternoon, providing and ever-changing background. It's also a very culturally diverse place, especially in the Amazon which tribes such as the Huaorani, Shuar, Cofan and even the Kichwa (primarily from the Andes) call home. There's also a strong Afro-Ecuadorian population, the descendants of African slaves brought by the Spanish during their conquest. And the-ever shifting palettes of landscape (especially in the uber-diverse Galapagos) kept me engaged, wondering what I would discover next.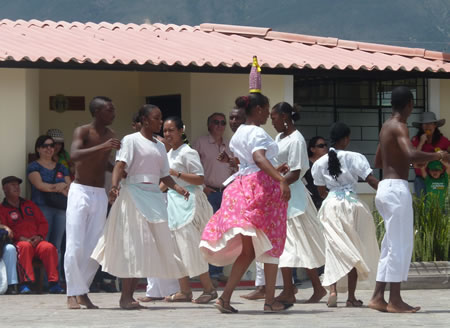 8) Safety upgrades
Before I left, I did do a bit of reading so I wouldn't be clueless when I touched down. A big theme in the travel blogs and guides was – be careful! Quito, it seems, has been wracked with years of petty crime and sketchy situations that, unfortunately, numerous travelers have encountered over the years. The thing is, I never once felt unsafe in Ecuador. Particularly in Quito's old town, the police presence was huge. My sense is that Ecuador is ready to throw off this dubious reputation and they're invested in making everyone feel safe. Naturally, I kept my wits about me, heeded local advice (such as avoiding the walk up to Quito's El Panecillo) and didn't take unnecessary risks. Would I recommend Ecuador to a solo female traveler? Without a doubt.
9) Temperate climate
Overall, Ecuador has a fairly temperate climate. While some of the hotter regions, such as the jungle and coast, do see the mercury climb quite high, it's generally not a place of extremes in weather. The diverse micro-climates in the country means that you can always switch scenes if you are too hot/cold/wet. This also means that there's not really a 'bad' time of year to visit. There's only 2 season, a wet and a dry, and Quito has a consistently average temp year-round of about 66 degrees F due to it's elevation and proximity to the equator. I was there in February and enjoyed very pleasant temps overall: nice and warm but not too hot in the Amazon and Galapagos, and just right in Quito… until it started raining for a long spell, feeling a bit too much like my home in Seattle.