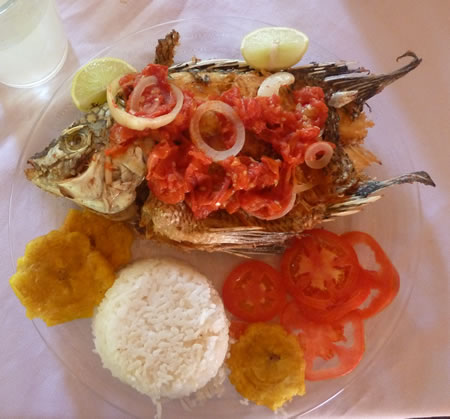 On Nicaragua's Isla de Ometepe, fish reigns supreme as the number one protein source. And rightfully so! The volcanic island is surrounded by Lago de Nicaragua, the largest lake in Central America. The plateful shown here was at a lovely lunch break in the the town of Altagracia during my recent community-based travel program there.
Mojarra, Guapote, and Tilapia are among the most common varieties of the lake's fish to make it to local plates. They are usually served up like this, fried whole, but are easy to eat and superbly mild and delish.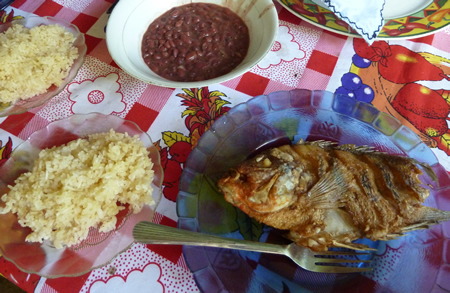 Here's another great fish lunch I had, prepared by host mother Doña Sylvia in the little neighborhood of Taguizapa. It was fried up fresh from the morning catch Sylvia's son had brought in. And don't be fooled by the humble rice and beans accompanying it! The rice was grown and cured by hand by Sylvia's husband Alfonso. It had a subtle sweetness that brought the locally-grown beans to new flavor heights. Local meals like these are among my favorite travel memories.
The virtual feast continues over at WanderFood Wednesday!