As I've been going through my photos and writing about my experience at Rockwater Secret Cove Resort on B.C.'s Sunshine Coast, I've come across an inordinate amount of food porn. That's because in addition to the gorgeous setting, the one-of-a-kind accommodations, and the little perks like a Spa Without Walls and room service in the wilds, the culinary art coming out of Rockwater's kitchen was another major inspiration factor.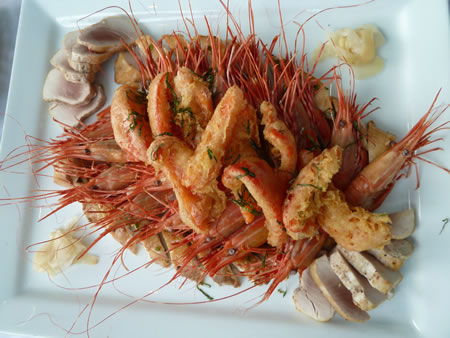 Wild, sustainably caught local seafood is the star, and rightfully so. A heaping platter of Dungeness crab sang the siren song of the salty waters of Malaspina Strait, just outside the cozy dining room's windows. Spot prawn season was in full swing during my visit, and these were as fresh as could be, tucked in with seared halibut and tuna and some light tempura veggies.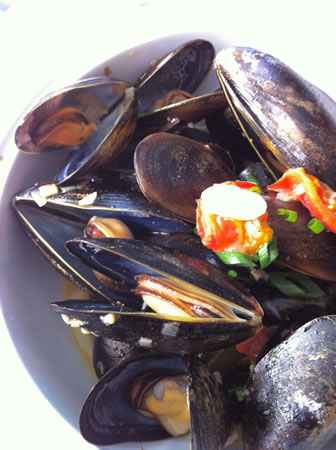 The mussels luxuriating in a broth of shallots, tomato, white wine and butter came from just down the way near Saltspring Island, I was told.

I adored the simple elegance of each dish, designed to highlight the beauty of the very freshest, local bounty the Sunshine Coast has to offer. This scallop was seared to perfection and so pretty it was almost a shame to devour it. Almost.

And local salmon with crisp asparagus and an herby risotto? Perfect. Thank the stars that this chef knows restraint. He let the salmon do the woo-ing.

But it's not just seafood that Rockwater excels at. In fact, this simple apple salad with pecans and bleu cheese was one of the most memorable food moments I had in three days of feasting. Again, it was so simple and perfect I kept thinking that I could easily re-create it at home. But would it taste like this? Must be the magic of the terroir.

And this gorgeous caprese salad seemed to officially kick-off the summertime.

A creative beet tartare gave a whole new dimension to the modest root vegetable.

Fresh, seasonal soups are made daily from scratch to showcase what's happening with the harvest. Rockwater understands that we can connect to a sense of place through food.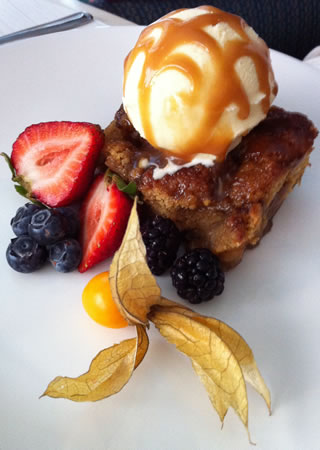 Really, there's more?

So many wonderful things to eat! By dessert, things are getting hazy. I'm entering a state of catatonic bliss. I feel certain that I'll need to be rolled down the boardwalk to my tent suite like Veruca Salt.

But after blissfully sleeping off this embarrassment of riches, breakfast awaits. Smoked salmon eggs benny rocked my world.
Rockwater Secret Cove Resort is truly a unique stay! I was lucky enough to be hosted there thanks to Tourism B.C. Read my review here.
And if you're not feeling too full, hop over to Wanderfood Wednesday for more food-lovin' posts!