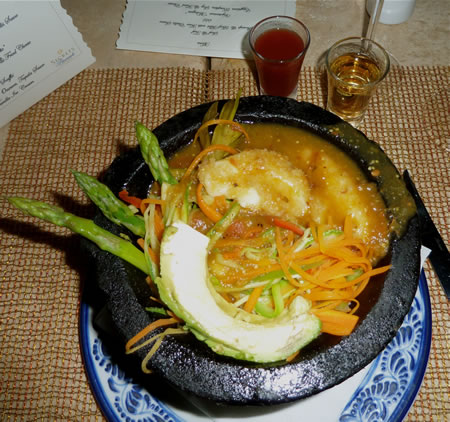 This pot-of-gooey-goodness is known as molcajete.
During the recent Blogger Meet-Up I attended in Mexico, I had this amazing dish served to me at Secrets Silversands' El Patio restaurant. At first I thought molcajete was the name for the thick, creamy Oaxacan cheese inside. Actually, the molcajete is the vessel itself.
A molcajete is basically a stone grinding bowl, typically made of volcanic rock. They are very special to chefs like Rick Bayless, who sings the praises of his own, and become seasoned after years of use. The molcajete is heated over the fire and goodies are thrown inside to base and simmer in a lovely sauce. The thick cheese forms a molten mixture of slow-cooked deliciousness.
In this case, the queso Oaxaca was cooked in a savory tomato-based sauce along with an array of veggies, including eggplant, asparagus, carrots, pumpkin and soy. That's a little duo of sangrita and tequila I had as the accompanying beverage.
Rico!
Join the fiesta and check out other foodie posts at WanderFood Wednesday!