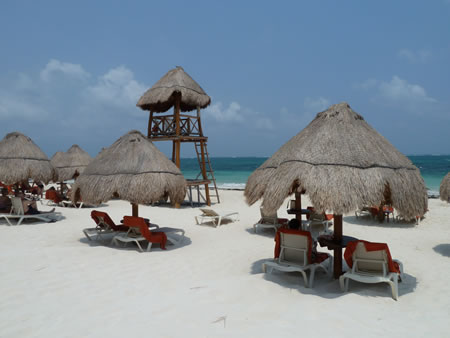 I traveled to Mexico just over a week ago to take part in the Bloggers Meet Up hosted by the Mexico Tourism Board and Dreams Resorts & Spas. It was a time to connect with other bloggers, explore and enjoy the amazing Riviera Maya area of Mexico and, for me, to experience something completely new – staying at one of Mexico's famed resorts.
I'd always assumed that the resort experience wasn't for me. The assumptions I based this around included the following:
they attract primarily party-hungry co-eds
the included meals are akin to cafeteria fare
they tend to be cut-off from the outside world
they were crowded, and
there was no marked effort towards sustainability or environmental considerations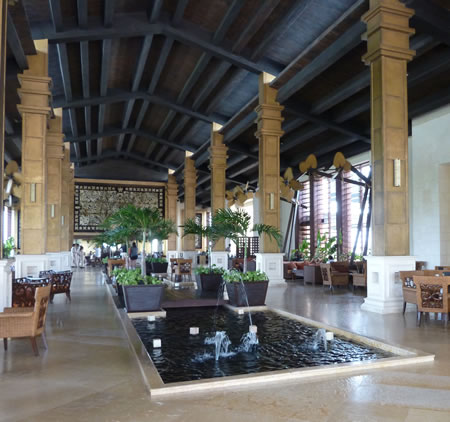 I checked in at the Dreams Riviera Cancun and all those assumptions were challenged and, ultimately, dismissed. Staying at a resort, as it turns out, is far more of an appealing experience than I had ever realized.
I did not hear the whoops and hollers of co-eds doing body shots at the beach bar. (Spring breakers, I learned, actually make up a very small fraction of the tourist traffic in the Riviera Maya.) I did not see an aftermath of sun-burnt crazies passed out along the beach each morning. There was no looping Jimmy Buffet soundtrack. None of that.[adsenseyu2]
What I found instead was a pleasantly calm environment – a place to pamper yourself and enjoy the good life, unfettered by stress and responsibility. Everyone I encountered wore the friendly face of relaxation as I cruised the tastefully landscaped grounds. (This is a very family-friendly resort, after all. In fact, kidlets can play away with the all-day activities at the Explorers Club while parents relax poolside.) The only celebratory hoots I heard came from the near-daily wedding parties happening at the lovely beachside gazebo.
Dreams Resorts are based on the Unlimited Luxury concept, and I have to say I reveled in the decadence. My guest room was lovely, with a super-comfy king-sized bed, soothing color palate, and all the amenities I could hope for. My suite featured a private plunge pool and jetted-tub on the semi-private veranda, allowing me to hang out outdoors and enjoy the tropical breezes at any time. Among my favorite features? 24-hour room service
(hello!) and a daily refresh of my mini-bar, all included as part of your stay.
And speaking of the food…aye chihuahua! During my stay, I was able to sample the cuisine from three of the six on-site restaurants. The food was fantastic! Whether elevated takes on classic local dishes or interpretations of different world cuisines, I was very impressed with the caliber and quality of the food at Dreams. The only thing I'd note is that options are a bit limited for vegetarians – as a fish-eater, I was able to find plenty to enjoy.
I also have to mention that the staff was awesome. Everyone I encountered was kind and genuine, and I felt truly cared for without any strange hints of servitude. It's one thing to offer excellent service, but to me it's even a greater thing to offer it with an true sense of generosity.
When I started to add up all the benefits of Dreams' Unlimited Luxury, I can see a real value to a stay here, especially in a region where prices are far higher than in other parts of Mexico. Having all your accommodation, food, and booze covered in the nightly rate, as well as having plenty of activities to do on-site while you are there, translates into a good deal for someone looking for an easy but luxurious getaway that doesn't break the bank.
The other big takeaway was this: sustainability initiatives are happening at all levels of tourism. Cancun-area developers and hoteliers have recognized the turning tide and are taking active steps to address environmental impacts and integrate local culture into their operations. Dreams Cancun was recently recognized by the Rainforest Alliance for meeting sustainable tourism requirements, and many other chains are taking notice and following suit. There may be more to overcome in an area that's seen it's share of less-than-responsible tourism, but the flipside is that the audience they are reaching is far-reaching and an important sect of the population. Just as Michelle Obama has taken up the cause of bringing organic products to Walmart stores in order to reach a far larger swathe of people, so too does the greening of resorts bring awareness and new practices to a large sect of tourists.
Many resorts are doing this behind the scenes. Speaking with staff from several of the Dreams properties in Mexico, I learned of recycling and composting programs that are quietly taking place out of view. I encountered a staff made up largely of local residents, many of whom are promoted within to upper-level management positions. The energy-saving features of my guest room were not heralded on any promotional materials. And a visit to another property owned by AMResorts, Zoetry Paraiso de la Bonita, really took this idea up a notch – an amazing resort that has fully integrated sustainability and cultural elements throughout its operations. (I'm looking forward to learning more about Zoetry soon!)
We all travel for different reasons. Not everyone finds a thrill in hovering over a squat toilet in a remote village or rolling the dice sleeping under a ratty mosquito net while malaria-ridden bugs hover menacingly near your
face. I primarily seek out travel that is culturally-rich and sustainable, but by all means, I'm not saying that's the only way to go. As my new blogger friend Stephanie at Travel Designed put it, "I don't care where you go, I just want you to GO!"
We all have busy lives, and who among us doesn't want simple relaxation once in awhile? Staying at Dreams Riviera offered me a wonderful chance to unplug, unwind and rejuvenate. And you know what? It worked. I came back rested and have had more energy this past week than I am used to; usually I come home tired out. It's a small miracle, and now I can say – I get it.
As a sustainable, eco-focused traveler, I'm here to tell you that "resort" is not a dirty word.